Sometimes one photo just doesn't tell the whole story, which is why Sked (formerly Schedugram) lets you schedule Instagram carousel posts from your desktop browser. 
So, whether you want to share your favorite moments from an event or give an inside look into a new product, just choose the images/videos you want to share, upload to Sked and let us do the rest.
Keep in mind that carousel posts always use square images. You don't need to crop them before uploading, but we will apply the same crop style that Instagram does when they are uploaded (a center-weighted square crop).
UPDATE: Instagram now supports landscape and portrait images to be uploaded into carousels. Sked supports both landscape and portrait carousels, but keep in mind Instagram crops all of the "later" images/videos to the same aspect ratio as the first item – so for best results, make sure they are all the same aspect ratio!
What's more, the new Sked allows users to post their Multiple Images Posts/Carousels to Facebook too, and all in one go!
Scheduling Instagram Carousel Posts – Step by Step Walkthrough
To schedule Instagram carousel posts, login to your Sked account (or start a 7-day free trial) then proceed to the Upload Post Dashboard and choose the accounts you wish to publish to. Using Sked, you can publish your carousel post to Instagram, Facebook and soon Twitter, simultaneously.
Then select "Multiple Images/Carousel Post" in the left menu of the "Upload Media" section. Proceed by uploading your desired images. Click 'Continue.'
If you want to post a unique set of images to each social media channel you can do so as well. Simply disable the "Use the same image for all selected accounts" feature, and proceed by uploading your images.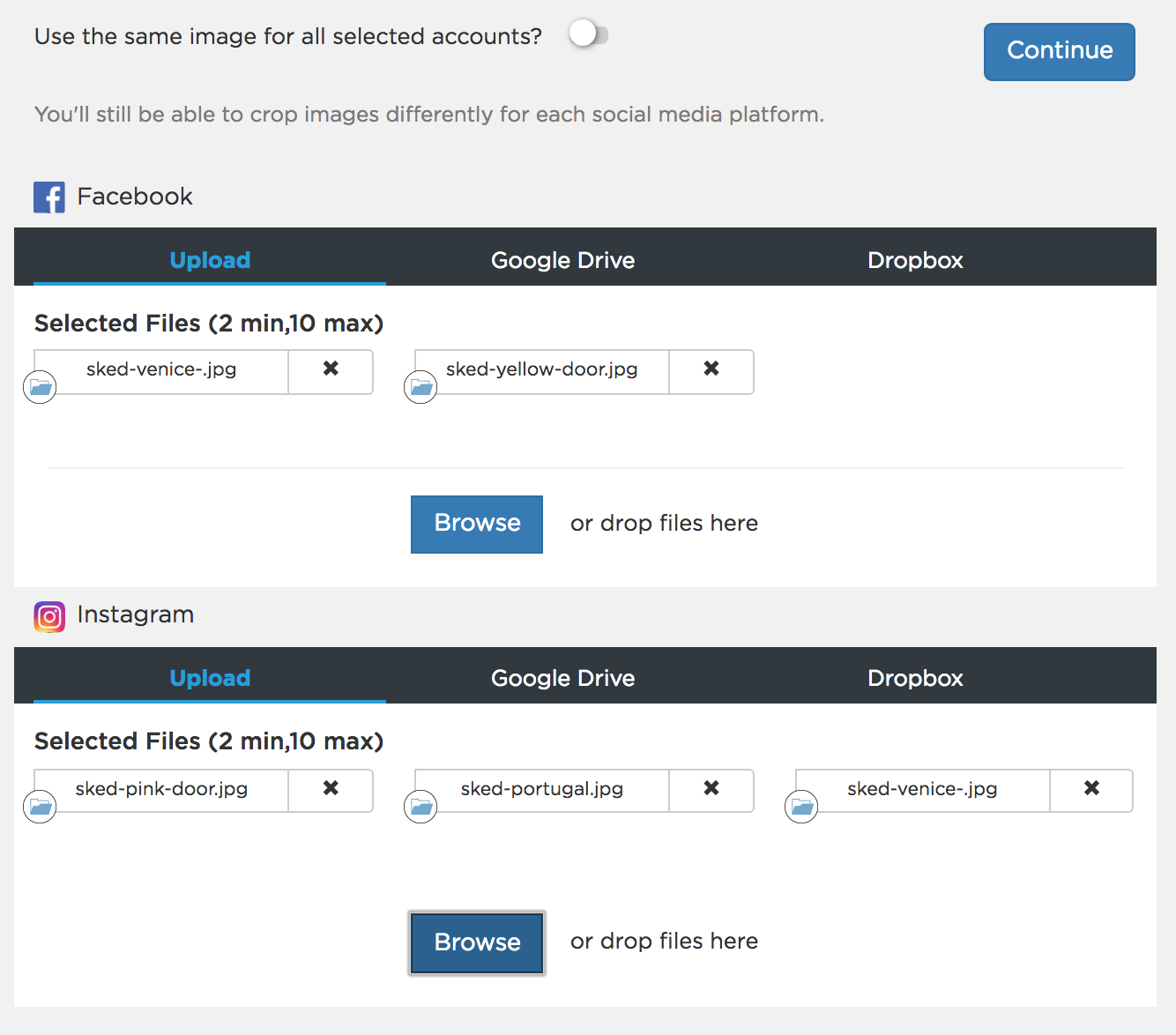 After reviewing your carousel's images, proceed by cropping and editing each of your posts within the same screen. Switch between each post by clicking on each carousel image at the left of your editing window.
Access Sked's photo editor via the editor icon.

Once you're done, click 'Continue', add your comments, tags and add it to your queue or schedule it, and let Sked do the rest!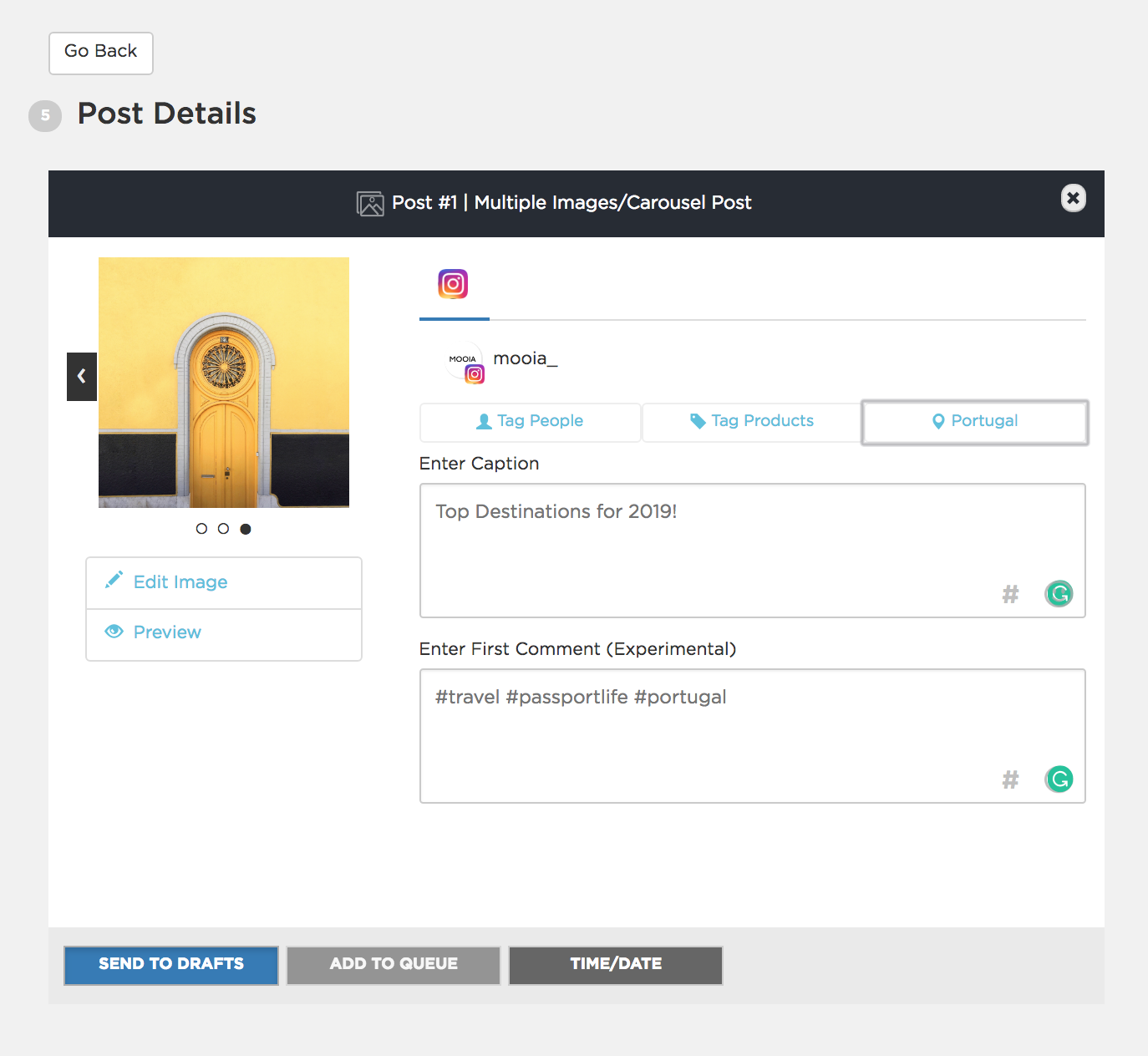 So, that's it, let us know if you find this useful and keep an eye on the blog for future updates, we're always working on making Sked better. In fact, Sked is officially going beyond just Instagram!
Sked users can now post across Facebook, Pinterest (and soon Twitter) in addition to our extensive Instagram management capabilities.
If you have any feedback (good and bad!) feel free to send through to our team at [email protected].
If you're looking to schedule Instagram carousel posts and carve out hours in your social media workflow, sign up for Sked's 7-day trial. Our all-in-one Instagram scheduler allows you to automatically post images, carousels, Stories, videos and more. Tag locations, users and products and manage all your hashtags in one place to save 5+ hours every week.
Dunja Lazic
Dunja is a writer turned marketer, usually shares product updates & occasional opinions on new trends. Dunja runs marketing at Sked Social and would love it if you signed up after reading this!