News and Trends
Social Media News: Instagram Tests 'Donate' Profile Button, Turning off Facebook Notifications and Twitter Lists Updates
As we lean into the second half of 2019, social media changes and advancements continue to rise. This week we saw Instagram test their 'donate' profile button, Facebook experiment with turning off notifications and Adam Mosseri denied claims that social media platforms 'listen' to conversations. Here's the latest in social media news:
Instagram Tests 'Donate' Profile Button
With so many brands moving towards supporting charitable causes, it appears that Instagram acknowledges the rise in their support too.
First spotted by Reverse Engineer, Jane Manchun Wong, the 'Donate' profile button is expected to be available for Business and Creator Accounts.
Alongside other options (like call, email and book), the 'Donate' profile button could help further communicate a brand's core values and overarching 'why.'
Do your clients support a charity? Perhaps they're passionate about donating all proceeds of specific purchases to one.
On its official release, think about how your clients could benefit from using the 'Donate' profile button. Here are a few to get you started.
Use the 'Donate' profile button to extend the brand's message
Display the 'Donate' profile button for causes aligned with the brand's values
Run a competition where entrants can have a charity of their choosing displayed on your client's account
Run a series of posts explaining key reasons why the brand supports this charity to strengthen connections with the audience and drive traffic to the donation site
It's not known when this feature will available to mainstream accounts, but getting ready with a donation strategy is something worth looking in to for any brand.
You May Soon Be Able To Turn Off Facebook Notifications
As a Social Media Manager, daily pings are just a part of life now. But what if you could switch your client's Facebook notifications off outside of business hours? No more flight mode, logging in and out or awkward popups during meetings. Well, it could be here sooner than we think.
According to TechCrunch, Jane Manchun Wong first released this information, with Matt Navarra confirming that the feature is being publicly tested.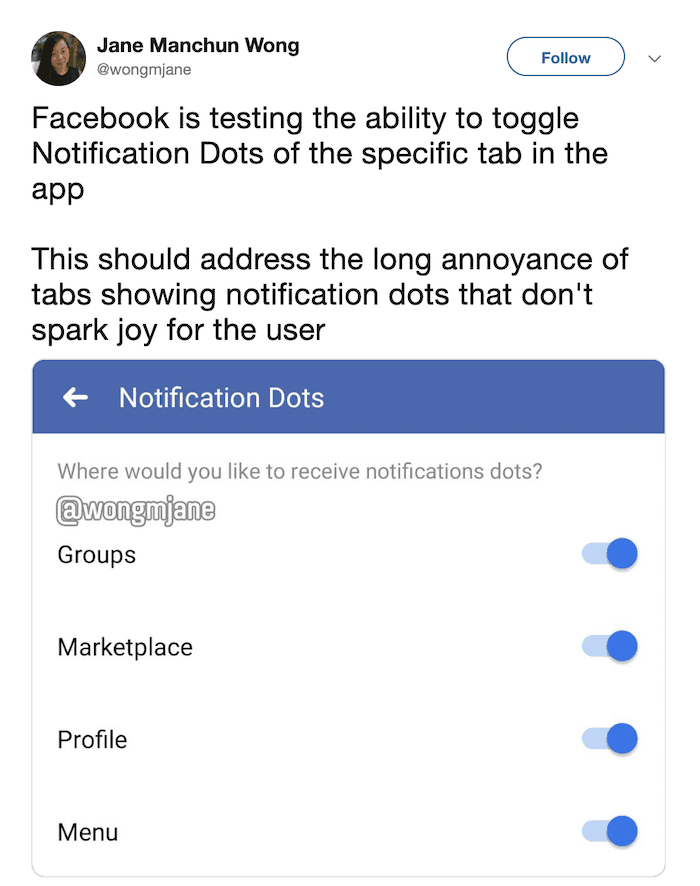 It's anticipated that Facebook will continue to experiment with less distracting features to improve the User Experience within the app and platform.
To turn off notifications, here's what you'll need to do.
Click the More/Menu Tab
Go to Settings & Privacy
Then Settings
Tap Notifications
Then Notification Settings
And lastly, Mobile
It can be difficult to set boundaries with clients as a Social Media Manager. However, by laying out your processes from the get-go (or revisiting contracts), this can pay off long term. Once you're able to turn Facebook notifications on and off, let your client know your hours of business, then turn off any pings after hours. This will also allow you to stop feeling the guilts and replying to 'just one' (which turns into ten).
Facebook and Instagram Deny Listening in to Your Conversations
It's happened to most of us. You have a conversation with a friend or client about a particular topic, then all of a sudden social media is sending you advertisements for it.
But in an explosive interview this week, head of Instagram Adam Mosseri denies the claims, according to Business Insider.
This is important information to know if ads management is part of your social media services. If clients or potential clients are asking how 'listening targeting' works (words from a real client), assure them that this is not something you have the power to do. While there are many theories, it appears that this immoral feature simply doesn't exist.
So how do those recently talked about topics pop up? Mosseri puts it down to 'dumb luck' or:
"You might be talking about something because it's top of mind, because you've been interacting with that type of content more recently. So maybe you're really into food and restaurants. You saw a restaurant on Facebook or on Instagram and maybe like the thing. It's top of mind. Maybe that's subconscious, then it bubbles up later. I think this kinda happens often in ways that are really subtle."


Adam Mosseri
Twitter Lists Under The Spotlight
Twitter lists are a powerful tool for brands on the platform. Essentially these allow you to customise timelines to track particular tweets, even if you're not following the accounts.
While this feature isn't new, it's often widely overlooked since no one really knows how to access it. That is until now. According to TechCrunch, Twitter announced this week that the lists feature will soon have a new home. A single swipe from the home screen.
Although last week Twitter announced that they're removing geotagging, you'll still be able to connect with other accounts at events and venues. If your clients often searched geotags for connections but haven't tried Twitter's list feature, they'll find this somewhat similar.
Twitter's list feature is particularly useful for notifying you of relevant topics in your client's industry (kind of like the Google Alerts of Twitter). Best of all, you can connect more easily with accounts of interest, keep lists private or public and connect with accounts your clients aren't even following.
This Week at Sked
As part of our popular Social Media Manager Chats series, this week we brought you an interview with Digital Marketer, Bonnie Borland. Having worked with the likes of Honda, Lululemon and Frank Green, Bonnie sheds light on:
What running your own social media agency looks like
Top tips for planning a brand's social media strategy
Common social media mistakes and more
Check out all of Bonnie's insights here.
If you're looking to carve out hours in your social media workflow, sign up for Sked's 7-day trial. Our all-in-one Instagram scheduler allows you to automatically post images, carousels, Stories, videos and more. Tag locations, users and products and manage all your hashtags in one place to save 5+ hours every week.


Danielle Read
Danielle is the Founder of Readcity Writing, a copywriting and digital marketing biz helping small businesses reach wider audiences through edgy online marketing strategies. When Danielle's not writing articles, creating social media campaigns and wistfully looking out her window, she's playing drums in a band and hanging out with office cat Larry.