Learning how to increase Instagram engagement is your key to Instagram success.
Creating super engaging content that makes your brand stand out is becoming a key challenge for marketers.
The constant changes to an algorithm-driven feed require the creation of quality, engaging content and then some.
Want to learn how to engage your Instagram followers? Want to showcase your products and services? Achieving your marketing goals will become easier by following these five tips.
How to Increase Instagram Engagement:
1. Produce quality content
Regardless of your budget and the purpose for which you use social media – quality content is key.
Nike is an Instagram leader with 75 million followers.
Their aim: "inspiring the world's athletes."
Their brand's story is bolstered with every post – Just Do It – exercise, determination, health, happiness.
Tight, focused storytelling depicts Nike as part of the dream journey.
If you were to remove all trace of Nike's brand (logo, tagline and fonts) from their content, you'll find that empowering content remains.
Nike demonstrates a #wantitall attitude your brand strategy would do well to emulate.
Although your budget may pale in comparison to Nike's, you don't need a producer or video editor to create rich content.
Invest your time in testing different types of video content with free apps such as Quik.
Don't overthink the process, instead plan what you want to communicate, what you'd like to film, edit and post!
The key here is to just get started.
Or Just Do It *wink emoji*.
Not sure what content your audience wants to see from you? Use Instagram's polling feature to ask.
2. Know when to post
The next step in mastering how to increase engagement includes knowing when the optimal days and times to post. This will increases the likelihood of your content being seen by your audience.
Instagram's algorithm has an impact on the reach of your posts, so it's you develop a strong understanding of Instagram Insights.
Insights break down followers by gender, age range, and location.
It shows the posts and stories your followers see and engage with.
It breaks-down down by day of the week and time of day. Please note, this feature is only available for Business Profile accounts.
Once you've worked out the best times to post to reach your audience, it's a good idea to use an Instagram scheduling app like Sked (formerly Schedugram) to publish your content automatically. That way you can program a whole day, week or month's worth of content when it suits you and then have Sked post it for you on autopilot.
General Tip: Variations are seen between B2C brands whose audiences continue to engage over weekends and B2B brands who might find audience peaks within working hours.
3. Leverage user-generated content
Leveraging user-generated content is an effective and subtle way to say 'hey, this is how our customers use our products, here's how you can too'.
Encourage your audience to take photos and use specific hashtags for them to take photos.
Not only is it an effective solution for sourcing content, it also makes it easier for you to find their photos.
Tag and credit the image of who it belongs to shows that real people using your REAL products.
Wayfair showcased a customer testimonial in an indirect way whilst providing a source of #Inspo for their community.
One of the easiest ways to share your customer's content is to regram it using either Sked or our free Instagram regram app called Sked Social Regram. To do it using Sked, simply choose the 'via Instagram URL' option when you're creating a post.
Next, enter the URL of the Instagram post you want to regram and click the preview button.
Then, upload the post.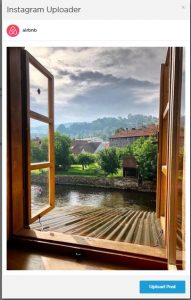 You'll notice Sked automatically mentions the original owner in the caption (as per Instagram's regramming rules). Now all you have to do is write your caption, include your tags/hashtags, and then either add it to your queue, save it as a draft or schedule it.
The other way is to download our free regramming app Sked Social Regram from the Chrome Web Store.
Then, when you find a post you want to regram, click on the Sked Social Regram icon (red arrow below), then fill out the caption and first comment (once again, the app will automatically mention the original poster).
After that, you can add it to your queue, save it as a draft or schedule it and you're done!
4. Use appropriate hashtags
Learning how to increase Instagram engagement is synonymous with learning how to use hashtags? Be selective, specific, and mindful in targeting your niche and integrate the use of hashtags that don't contain your brand name.
How does that work?
Well, campaign mission-related hashtags can increase the reach of your post.
As you may already know, getting prospective customers to do what you want them to do is like herding cats.
People don't like being sold to and told what to do.
You have to create the desire and urge with compelling, fun and creative calls-to-actions.
Red Bull did this remarkably well in 2014 with its #Putacanonit campaign.
Inspired by the oversized cans Red Bull uses on its promotional vehicles, Red Bull encouraged customers to take photos of the Red Bull can in random and fun places.
Want to learn all the latest tips and hacks for getting the most out of hashtags? Read this article here. You'll also learn how you can store all your hashtags in one place and add them to your posts with just a couple of clicks using our hashtag manager.
HOW TO INCREASE INSTAGRAM ENGAGEMENT – PRO TIP: Did you know that tagging products, people, and locations in your posts can help boost engagement by almost 30%? To find out how to enable tagging for your Sked account, follow the steps in this blog post.
5. Tell your brand's story
Crafting your brand story requires careful attention to your voice and values, and is our final step in mastering how to increase Instagram engagement.
Emotion is key to effective storytelling and relating to your audience's life experience is crucial.
The 'what' of your product/ service doesn't belong here.
Capture your audience's imagination by expressing who they can become with YOUR brand.
Red Bull is crystal clear on their audience's love of extreme sports.
They embrace it with video heavy content depicting the expected lifestyle of a Red Bull drinker.
The drink is nowhere to be seen.
According to Simply Measured, their strategy rewards them with three times the average engagement rate of other leading brands on Instagram.
Red Bulls phenomenal Instagram success is demonstrated by its 1236% follower growth in 4.5 years to 7.9 million followers today – how's that for #inspo?
Bringing it all together
Creating super-engaging content isn't rocket science. If you're starting out; test, test and test some more. It will help you define what works and what doesn't. Always remembering to keep track and compare your results.
Now that you know how to increase Instagram engagement, why not start carving out hours in your social media workflow by signing up for Sked's 7-day trial. Our all-in-one Instagram scheduler allows you to automatically post images, carousels, Stories, videos and more. Tag locations, users and products and manage all your hashtags in one place to save 5+ hours every week.
Bianka Velevska
Bianka is the editor at brand.ing, your no-fluff resource helping your brand live it's best life. Follow @brand.ing on Instagram keep in the know.