Marketing Tips
How To Make A GIF (And How To Use Them In Your Social Media Strategy)
On social media, it seems like trends swoop in and then swoop right back out before you can even figure out what's happening.
But, one thing that's held strong for a while now? Knowing how to make Instagram GIFs can make social media posts all the more engaging and relatable.
In fact, for the past five years, Google Trends shows that the interest in GIFs has increased dynamically. And, guess what—it's still rising. Recent statistics show that GIPHY, a popular GIF search engine, has a whopping 300 million daily active users.
Needless to say, if you aren't already looking at how to incorporate Instagram GIFs into your own social media strategy, you're missing a huge opportunity to use this engaging media to connect with your audience.
Let's dig into everything you need to know about Instagram GIFs—including what they are, how to make them, and how to effectively leverage them on social media.
What You'll Find In This Post:
What Exactly is a GIF?
You've probably seen GIFs all over the internet. But, if you stop to think about what exactly a GIF is, you likely have nothing more to offer than a blank stare.
Let's break it down.
GIF stands for "Graphics Interchange Format," and it's an image file format (filename .gif) that's made by combining several images into one file. The result is a short video clip, or something that sort of resembles a moving picture.
Simple enough, right?
But, let's not stop there—there's another question that plagues many GIF users: How the heck do you say it?
Well, that's a pretty hotly-debated issue. Considering the "g" stands for the word "graphic," many people opt to pronounce GIF with a hard "g."
However, others insist that it's pronounced "JIF" (like the peanut butter)—especially since the inventor of GIFs himself used that pronunciation when accepting a Webby Award.
Here's the good news: How you want to pronounce it doesn't really matter. Instead, let's dig into the information you really need to know to use them effectively.
What Social Media Accounts Support GIFs?
Because GIFs have become so popular across social media, many platforms support their usage. Some even go so far as to allow users to directly access, search, and add GIFs within the social media platform.
Twitter: Supports GIFs. Users can even add GIFs directly to their tweets by pressing the square "GIF" button and searching for the type of image they want.
Facebook: Supports GIFs, also with direct usage within the platform. Similarly to Twitter, when posting a status or leaving a comment, users can select the GIF button to search a database of different GIFs.
LinkedIn: Does not support GIFs. Users can upload images to their posts, and GIFs will appear animated while they're composing their status update. But, when they actually hit "post," the GIF will appear as a static image. Here's the good news from the TechSmith blog: LinkedIn does support MP4 video. If the video clip is less than 15 seconds, it will autoplay and loop. So, it essentially functions just like a GIF.
Of course, Instagram is where things get a little more complicated. Unfortunately, the platform does not currently natively support the use of GIFs for Instagram content, which means users have had to find various workarounds to use Instagram GIFs in their grids. But that doesn't stop us from absolutely loving Instagram GIFs.
Much like LinkedIn, Instagram does support video and the clips will loop automatically if they're less than 15 seconds. So, many users choose to upload video files that function just like GIFs.
As Digital Trends points out, there's an easy way to convert GIF content to video and share it to your Instagram account. Use the popular GIF search engine, GIPHY, to find a GIF you want to use. Click into that GIF and then click the Instagram icon to share the GIF to Instagram. Yes, your very own Instagram GIF! Enter your email address, and you'll receive the MP4 file in your inbox.
Open the email on your phone (remember, you can only post to Instagram from mobile) and then save the video to your phone's camera roll. From there, you can upload the video clip to your Instagram account like you would any other image. Instagram GIFs just became a whole lot easier, right?
But…What About Instagram GIFs for Stories?
While Instagram hasn't yet rolled out GIFs for the normal feed, you can use Instagram GIFs in Stories with the app's GIF stickers.
Here's how to do it: When creating an Instagram story, press the GIF sticker button in the upper right-hand corner. Here's what it looks like:
After clicking that button, you'll see a search bar. Simply clicking within that search bar will bring up different GIFs that are trending on GIPHY. But, you can also enter a search term to find a GIF that matches what you're looking for.
Double tap one to add it to your story like a sticker. You can then move and resize it like you would any other sticker on your Instagram story.
It's not exactly the same as using GIF content within your actual Instagram grid. But Instagram GIFs are the perfect way to show a bit of personality in Stories.
How to Make an Instagram GIF: Your Guide to Attention-Grabbing Instagram GIFs
You know by now that there are plenty of ways to find GIFs that you're looking for—whether by searching through a GIF search engine like GIPHY or searching the options directly within a social media platform (most of which are actually powered by GIPHY).
But, what if you don't want to use an existing GIF and want to create something totally custom? Rest assured, there are a few different ways to create your own custom Instagram GIF.
How to Make a GIF Using a YouTube Video
Let's say that you want to capture a specific portion of a YouTube video and use that as an Instagram GIF. GIPHY makes it easy to create your own Instagram GIF using just the link to the video.
1. Click the "Create" button in the upper right hand of the homepage.
2. In the "Add any URL" section, paste the link to the YouTube video you want to use.
3. Use the sliders to set your GIF starting point and duration.
4. Press the "Continue to Decorate" button to add things like text, filters, and stickers to your Instagram GIF. Don't worry, you can also skip this step if you want to.
5. Press the "Continue to Upload" button. At this point, you can select whether you want your GIF to be private (and only be seen by you), or if you want other people to be able to access it through GIPHY.
6. Upload your GIF to GIPHY.
That's it! Now you can either use the GIPHY link or download your GIF file to use on your various social media platforms, including as Instagram GIFs.
How to Make a GIF Using Images
What if you don't have a video and would rather make your own GIF using a series of images? For example, I want to create a countdown Instagram GIF using three separate number images I created in Canva.
1. Download your series of images from wherever you created them and then save them somewhere accessible.
2. Again, head to GIPHY and click the "Create" button. This time, select the option to "Choose Photo or GIF."
3. Select all of the images you want to include in your GIF.
4. Again, use the sliders to adjust the starting point and duration of your GIF. You can also add, remove, your reorder your images.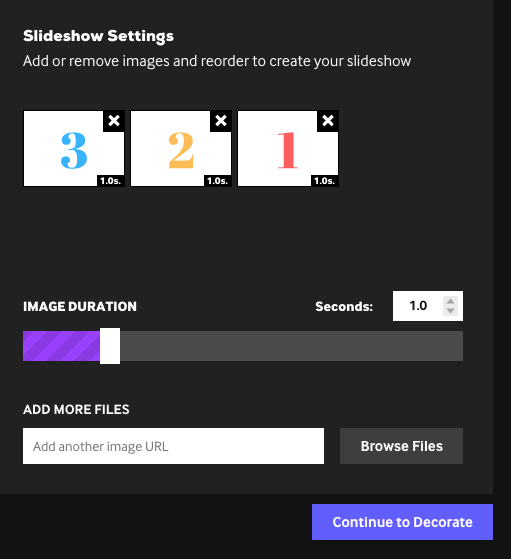 5. Press "Continue to Decorate" to add any additional features to your GIF.
6. Press the "Continue to Upload" button.
7. Upload your GIF to GIPHY to use it wherever you'd like. Here's the GIF that we created:
If you're a Photoshop user, there's also a way that you can create your own GIFs in that platform. But, GIPHY is definitely the beginner-friendly way to make your own GIFs.
How to Make a GIF Using a Screen Recording
Perhaps you're creating some sort of quick tutorial or product demonstration (i.e. how to add items to your shopping cart), and you want to include a GIF to actually show people the steps you're taking.
You can use whatever tool you prefer to record the steps on your computer screen and then upload that video to GIPHY using similar steps to what we outlined above.
However, many screen recorders also offer the option to immediately convert your recording to a GIF. These can then be used as Instagram GIFs.
If you're on a Mac, Gifox is a great option. Simply download the app, click the button, and then select what portion of your screen you want to record. When you stop recording, Gifox will automatically convert your recording into a GIF that you can download and use on Instagram, or any other social media platform.
Are you on Windows instead? ScreenToGif is another great solution to check out.
4 Do's and Don'ts for Using GIFs on Social Media
You're armed and ready with all sorts of different ways you can create Instagram GIFs, and GIFs for social media. But, now what? What's the best way to use them to actually boost your social media efforts?
Let's cover a few do's and don'ts for using GIFs the right way.
Don't Skip the Research
GIFs are supposed to be fun and engaging—not accidentally offensive. Unfortunately, it's all too easy to be unintentionally inappropriate when using GIFs.
Make sure you review each GIF you plan to use carefully to ensure that nothing offensive sneaks in there or takes you by surprise. Additionally, we recommend that you only use Instagram GIFs and social media GIFs when you know exactly what they're referencing so you have the necessary context and feel confident in your choice.
Do Always Remember Your Brand
GIFs are lighthearted and personality-filled, and they do tend to resonate well on social media. But, as with any other marketing effort, make sure that you're always keeping your brand top of mind.
For example, if you've fostered a reputation on Instagram as a brand that's more polished and sophisticated, some of the ridiculous and popular Instagram GIFs might not be the right fit for you.
Does that mean you can't use GIFs at all? Absolutely not. There are still plenty of things you can do (more on that later)—you'll just need to be more selective and creative.
Don't Overdo It
As with anything, if they're overused, GIFs start to lose their appeal.
They're easy to lean on repeatedly since they're far more effective at portraying emotions than written words. But, remember that everything should be used in moderation. Can you imagine seeing a feed filled with just Instagram GIFs? Yeah, it could be pretty overwhelming to the eye.
Remember, there's still plenty of room for text, images, and longer-form video content in your social media strategy as well.
Do Get Creative
It's easy to find popular GIFs, but that doesn't mean those are the only ones you can use. Don't be afraid to think outside the box and use the steps we outlined above to create custom GIFs for your brand.
Challenge yourself to think of some ways you can use GIFs that go beyond the standards.
A product demonstration? A quick clip of your team celebrating a recent milestone? Some sort of announcement or reveal? The options are endless.
GIF Examples: 3 Brands That Use Social Media GIFs Well
If you're looking for a little more inspiration about how you can leverage Instagram GIFs and general GIFs in your social media marketing, you're in luck.
There are plenty of brands who do this well, but we've rounded up three of our favorites so you can peruse their social media accounts and get inspired.
DiGiorno loves using GIFs—particularly on Twitter. While they use them in a variety of ways, it looks like one of their most preferred methods is to add them to replies to customers in order to inject a little more personality into their exchanges.
Starbucks takes custom Instagram GIFs to a whole new level. The coffee chain loves to showcase seasonal drinks and other products using short, attention-grabbing video clips on Instagram.
As the adult-oriented programming of The Cartoon Network, some of Adult Swim's social media posts can be a little irreverent and over the top. Needless to say, GIFs fit right in with their brand identity, and they use them across all of their social media channels.
Get Started With GIFs
Oh, the GIF. You've seen them everywhere.
But, if you've previously written them off as something that wouldn't work for you, think again.
GIF usage can extend far beyond the trendy ones you're used to seeing (ahem, remember that you can always create your own custom GIFs!).
When they're used correctly, GIFs can be an awesome complement to your social media strategy. You just need to remember to:
Do you research
Stay on brand
Exercise moderation
Get creative
Put those tips into practice, and you're sure to use this engaging form of media in a way that resonates and connects with your social followers—rather than annoys them.
Kat Boogaard
Kat Boogaard is a freelance writer, who writes for Sked Social about marketing strategy. She's a compulsive organiser with a penchant for dogs and tacos – in that order.