Instagram Stories just became even more fun. The latest round of Instagram partners focuses on pairing up with popular consumer apps to bring even more context to Instagram Stories and encourage the audience to share more. The two most prominent Instagram partners are Spotify & GoPro integrations, which will now feature an Instagram sharing button.
Basically: "If you're using the Spotify or the GoPro app, you can tap the respective share buttons to send your content to Instagram Stories. You can then edit and add to your story or send it as a direct message to someone. The Spotify integration allows you to share a sticker of songs, playlists, or albums you're currently listening to, with a link to play the music on Spotify. Instagram says the new Stories integration will allow third-party apps to post content directly to Facebook Stories as well."
Instagram Partners with Spotify – for bars, concert venues and musicians
We've all seen people sharing music they're listening to on Instagram Stories so this come feature almost comes naturally to fulfill an existing need for individuals users. However, the Spotify integration is also great news for musicians and music brands since it will allow more organic sharing and can be used creatively to re-engage your audience or share new singles. Spotify is likely to see higher engagement rates since users will be able to access the content in their Spotify app too. Jump on and start testing this new feature, if you're out of ideas, we've collected the best ways to engage your audience with Stories, check them out.
I'm fairly excited to see my favorite musicians using the feature and curious about how other brands will use the feature. Will bars share the music currently playing at their venue? How will you make use of the new integration? Let us know in the comments below or send a quick email to [email protected], I'm all ears!
Instagram Partners with GoPro – a travel bloggers' life made easier
The GoPro already has a myriad sharing options but the Instagram integration will really make a difference. You'll now be able to share videos & images from your GoPro directly to Instagram stories. This gives travel bloggers and brands a great opportunity to share their content in real time and engage their audience. Since a lot of Instagram's customers already upload GoPro content, the feature comes as a great timesaver and will definitely let you enjoy more of those made-for-Instagram moments. Learn how you can save even more time in your posting process with Sked Social's built-in Instagram photo editor.
I'm curious to see if this new Instagram update will bring more engagement to travel-related brands and influencers. If you're still unsure how to track your Instagram Stories' performance, we prepared a great guide on what to keep track of and how.
And if you haven't tried scheduling your Stories posts yet, save yourself the hassle of having to publish them in the middle of the night or on weekends by using Sked Social to post them automatically. To enable image and video story scheduling for your Sked Social account, follow the instructions in this article.
Branded AR filters coming to Instagram
Instagram's AR filters have been in the app for a while, mostly used for sharing selfies and goofing around, much like in Snapchat. However, Instagram just announced they will be expanding their AR filters' gallery by teaming up with celebrities and brands who will be able to create their own.
"Now, brands and public figures can build their own AR filters that will be available to use if you follow the influencer offering the effects. You can also try these custom filters if you are seeing them used on your friends' Instagram stories.", The Verge
With Instagram's AR filters, fashion businesses can create their products for "trying on" (Looking at you, Warby Parker!), cosmetics brands can create makeup filters (apparently Kylie cosmetics already is), travel brands will also likely be on top of their game with these (I mean, who doesn't want cool world landmarks in their pics?). Filters will be available to partners only and I'm curious to see what they'll create.
Speaking of filters, we've just finished upgrading our photo editor tool here at Sked Social and it now has 60 different filters you can apply to your images.
To check it out, open Sked Social and upload an image from your computer, Google Drive/Photos, Dropbox, Canva or an Instagram URL. Then, click on the 'Edit image' icon (see below).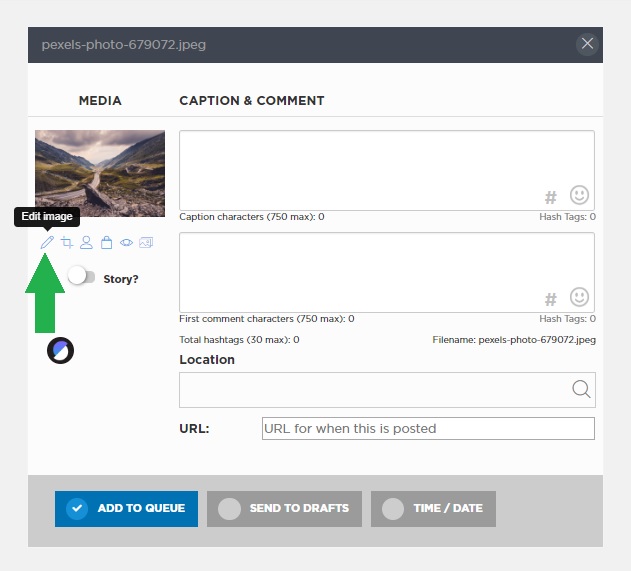 This will open the photo editor. It will be set on filters by default, so all you have to do is scroll down through the previews and select the one you want.
And you can also crop and adjust the levels on your image, and add text, stickers, frames, and overlays by clicking on the different icons in the sidebar menu (see below).
Once you're happy with the way your image looks, click save and then add it to your queue or schedule it to post on a specific time/date.
Now that you're up to speed on Instagram partners, why not carve out hours in your social media workflow signing up for Sked's 7-day trial. As an all-in-one social media platform that allows its users to post directly to Instagram, Facebook, Pinterest and more, Sked is the first step in engaging authentically with your followers.
Dunja Lazic
Dunja is a writer turned marketer, usually shares product updates & occasional opinions on new trends. Dunja runs marketing at Sked Social and would love it if you signed up after reading this!