News and Trends
Instagram News Roundup: IG opens verification to more people, becomes an official verb, and a shopping app next?
Instagram's exciting new features continues to grow, providing many opportunities for brands and its ever-growing community of users. This week featured more exciting news on your favourite social media platform, here's this week's Instagram news round-up:
More accounts allowed to get verified
Last week, Instagram began allowing more people to apply for verified status on the platform. Those looking to apply can go to their settings, and tap "request verification." As reported by The Verge, this will prompt users to give their account name, full name, and legal or business ID. Applicants will be notified whether their request has been approved or denied after an unspecified period of time.
Instagram's developing IG Shopping app?
There are over 25 million businesses with Instagram accounts; 2 million of which are advertisers. Additionally, around 80 percent of users follow at least one business. This is why sources say the platform is looking to develop a standalone shopping app. The app will allow users to purchase products directly from the app.
The app would be a stiff challenge to existing e-commerce platforms like Shopify and other advertising tool providers. There is still no word on when the app might launch, while Instagram has declined to comment on the report.
In the meantime, adding shoppable product tags to your posts is still the best way to sell your products on Instagram. And because so many Sked Social (formerly Schedugram) customers own or manage multiple e-commerce stores, we fully support product tagging for scheduled posts with our platform.
If you'd like to add product tags to your posts when you're scheduling with our app, here's what you do.
The first step is to ensure product tagging has been enabled for your account. To check, log in and click on Billing/Profile Settings in the sidebar menu (see below).
Then, scroll down to the Beta features section, find the Product tagging option, and turn on the Enable Product Tagging switch (see below).
Next, upload the image you want to use from your computer, Dropbox, Google Drive/Photos or our Canva integration. Product tagging is not available for carousel, video or Story posts. Once your single image is uploaded, click on the Tag products icon (see below).
Then, follow the instructions and tag up to five products. It's important to note that you can only tag products if you have created a Facebook product catalog beforehand. Once you've added your product tags, click save.
All you have to do then is add the post to your queue or schedule it for a specific date/time and Sked will publish it for you with your shoppable product tags in place. Simple!
IG adds security measures
Instagram recently announced additional security measures it would be implementing. This includes working with third-party authenticator apps like Google Authenticator and DUO Mobile. This means that instead of getting security codes via SMS, users can update their two-factor authentication settings and receive codes through the third-party apps.
Instagram also added an "About This Account" feature to verified accounts. The feature displays the date of the account creation, its base country, ads they run, and whether they changed usernames in the past year.
"Our community has told us that it's important to them to have a deeper understanding of accounts that reach many people on Instagram," the Facebook-owned platform said in a blog post.
In other cool Instagram news…
Publishers waiting on data before investing in IGTV
The digital marketing world is keen on finding out just what purpose IGTV can serve. It appears, though, that they will need to wait it out. That's what DigiDay found when they interviewed Discovery and three other publishers. It would take about six months of data before they can assess the platform. That's what Discovery Lifestyle Digital Studios GM Vikki Neil said.
After its June launch, IGTV remains a space that's great for experimentation. Investing resources for exclusive content on the platform, though, is a different question. Instead, companies like CNN National Geographic are repurposing content on IGTV as a way to test the platform.
IGTV may be leaps away from competing with YouTube, but with Instagram's soaring daily active users, you can be sure publishers will continue to test the waters.
Increasing number of teens log out of social media
While the common perception of the YouTube raised youth is one that sees them transfixed on their screens, it seems that may no longer be the case. The Guardian cited a survey that found 63 percent of British school children saying they would be happy if social media had never been invented. As well, Ampere Analysis found that people aged 18 to 24 say they've changed their attitudes toward social media in the past two years.
The teens interviewed for The Guardian report cited factors such as bullying, addiction to likes, switching off from face to face conversations, and the dishonest nature of social media as the reasons why they're straying away from these platforms.
Tobacco companies using influencer loophole to advertise
Image Source: AdNews
Last week, a petition filed to the United States Federal Trade Commission claimed that tobacco companies are using similar marketing tactics used in the US for decades to attract kids. Only this time, they're turning to the less regulated world of social media.
As reported by AdNews, a study found that tobacco companies were secretly partnering with influencers to post images of cigarettes and smoking as part of their strategies across 40 countries. According to the report, tobacco companies get around anti-smoking advertising laws by hosting events and parties where they give young influencers 'cigarettes' as gifts.
"The sad reality is, this has gone on for a number of years, with no governments investigating it carefully, and with little attention brought to it," Matthew Myers, a president of an anti-smoking advocacy group said.
Art through IG lenses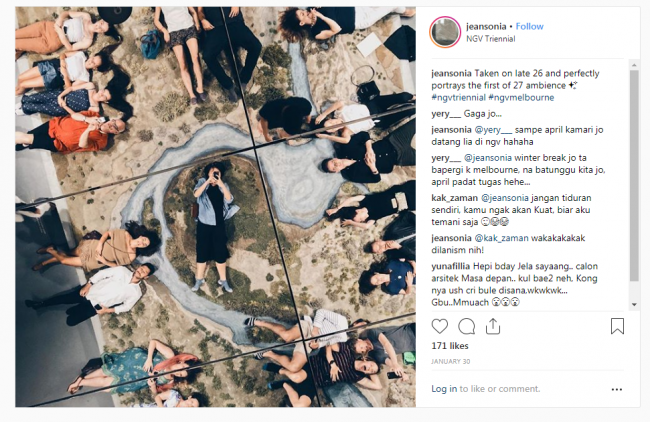 Image Source: The Next Web
125,000 – that's how many hashtagged posts the Museum of Ice Cream in the US has gotten. This is part of a growing trend of how art is being consumed and appreciated. And art institutions are catering to this inclination. The National Gallery of Victoria, for example, features a number of IG-friendly installations. These provide photo opportunities that draw visitors.
Instagram has changed the way the world sees life. Art has begun to imitate that. As long as they don't destroy $200,000 worth of crown sculptures in pursuit of a good 'gram, they should be fine.
Instagram now officially a verb
This month, Merriam-Webster named Instagram a verb, making Instagram a part of an elite club of companies like Google and Xerox. Merriam-Webster reserves this distinction for companies that have greatly affected culture.
As noted by TIME, Instagram was among 840 new terms and definitions the dictionary recently announced. The dictionary defines "Instagram" as a verb that refers to posting a picture on the social media platform. Joining it was "Instagrammable" – an adjective for things deemed worthy of sharing.
As the internet continues to define how language is used, expect more of these terms to become part of the English lexicon.
More Instagram News & Tips
As Instagram continues to evolve, more and more brands will find having a strong presence on the platform inevitable. But what metrics define having a strong and effective presence? Sked, the ultimate Instagram management platform, gives you the low down.
Instagram may not be the most friendly platform when it comes to sharing links. But with an increasing number of daily active users, you'll have to make do with what it allows. Sked has now made it much easier to make that one link in your bio matter, allowing you to easily track clicks to your bio link.
Takeaway
Instagram's popularity will mean a consistent stream of more and more features. Stay tuned to this space to keep updated with the latest updates in the world of Instagram.
To carve out hours in your social media workflow, start by signing up for Sked's 7-day trial. As an all-in-one social media platform that allows its users to post directly to Instagram, Facebook, Pinterest and more, Sked is the first step in engaging authentically with your followers.
Jolina Landicho
Jolina Landicho is a marketing strategist and business consultant working with various companies and start-ups based in the US, UK, and Australia. She is devoted to helping businesses bridge relationship gaps by providing in-depth, actionable advice on online marketing.