We're back with another SMM Chat — a conversation with digital marketers to learn:
The routines that keep them focussed
How they work through daily challenges
Their tips on managing client accounts
In this edition, we interview marketing expert Bonnie Borland. Bonnie has implemented successful strategies for fashion and lifestyle brands including Honda, Lululemon and Frank Green.
In 2016, she founded Social&, a creative talent community connecting agencies and businesses with marketing & creative freelancers.
What does your role at Social& involve?
As the Managing Director, I'm responsible for the strategy, direction and performance of the company. I'm focused on building great relationships with our clients and helping them achieve their business and marketing goals. I spend a lot of my time with clients building transformational brands and launch strategies. I also assemble the teams to deliver. This is the best part about what I do – helping others succeed.

Bonnie planning content for Instagram for one of her clients
What does a standard day look like for you?
Each day varies, so I try to stay consistent with my routines. I don't set an alarm in the morning, once I'm awake I head straight outside (before checking my phone) for a walk, jog or to the gym. I have my first coffee when I sit down at the computer and try to make it my only one (but often break this rule).
During the day I'm either in the office with the team working on everything from admin to strategy execution or I'm out with clients doing things like recruiting freelancers/agencies, building strategies with executive and marketing teams, deep diving and analysing data and campaign results and more – as I said, it's fairly varied!
Breaks are also important, especially when you're multitasking. I make sure to step away from screens between projects where possible, even if it's for 2 minutes. Then at night, I try to wind down by about 8 pm and I'm in bed before 10 pm.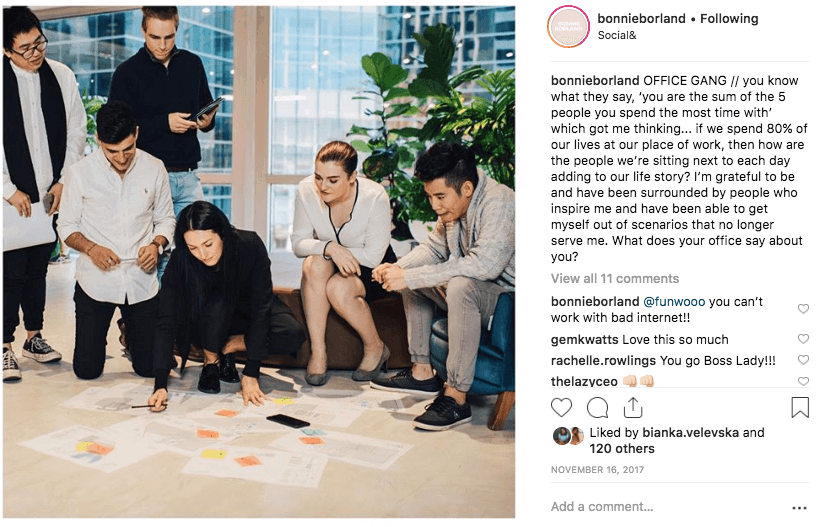 Running your own social media agency, you must be busy managing clients with different needs. How do you manage it all?
Oh yes, the ability to multitask can be both a blessing and a curse. I use TeamGantt, a project management system, which ensures the Social& team know each project, task and milestone. Our clients and their teams can also view, comment and add tasks.
We use this system to plan and create content for social media too and once we're ready to execute, we schedule it with Sked Social.
I love being able to have content mapped out and scheduled in advance. It gives me peace of mind so the team can focus on tasks in blocks and not get stuck in the habit of spending significant time on social media each day. I also enjoy the calendar element of Sked, which allows me to show clients an overview of the content scheduled.
What are your critical tips for planning a brand's social media strategy?
1. Know your objectives
2. Understand and research how your audience use social media
3. Establish your key metrics
4. Observe what your competitors are doing
5. Know your look and feel. Test and see how your audience responds and iterate
A great social media strategy should be consistent and true to the brand itself.

What is the most common mistake you see brands make when it comes to their social media strategy? And what should they do instead?
Focussing on the number of followers they have.
It's one thing to want to build your audience – that's a great goal to have. But if you're going to focus on vanity metrics alone, that's not going to help grow your business. I advise engaging with your audience, being authentic and taking them on a journey.
Your clients include Honda and Lululemon, can you tell us about the projects you've worked on?
The thing I love most about working with any client is pushing the envelope on what is possible. The goals for each of these incredible clients were similar, to create a go-to-market social strategy to launch a new product.
However, we had a different approach for each. For Honda, we launched their bold new Civic in what was their first ever Influencer campaign. It resulted in huge brand uplift and a record number of test drives across partner dealers.
Influencer Tully Smyth worked with Honda and Social& on the launch of the campaign
How do you manage client expectations?
During the discovery and strategy process, I emphasise that it's important to be realistic about what we're trying to achieve. That comes back to setting goals from the onset and knowing the true purpose of what social media and marketing can do for their brand.
When it comes to goal setting there's a huge input from me but it all comes down to where the client wants to go with their business. Whether they want to gain market share or enter a new market. Their business goals aids with what I think we can achieve with the budget they're setting.
To manage client expectations I ensure that in the discovery phase, I:
Learn about the history of the business
What the client would like to achieve for their business
Sit down together with my client to set realistic goals
Ensure that everyone understands and agrees on the goals for each stage of the process
How do you keep up with industry trends?
I stay up to date by reading industry blogs. My favourite is TechCrunch but I always check out Medium for articles on a combination of tech, startups, design and culture. I like seeing how each of the areas influence the other because we can borrow learnings from other verticals which give us the point of difference we may need.
Social media plays a big role in this too, following industry influencers across both Instagram and LinkedIn.
Quick fireside #SMM chat:
What are your favourite brands to follow on social media?
Airbnb: I love living through all the travellers in all these incredible destinations
Notpot: They're pushing the envelope with bright popping colour
Poolside Bags: I love the mix of user-generated and brand-generated content that they use. I also love that the founder, Ash, shares her adventures and you get a really great behind-the-scenes look at the makings of this global brand.
What tools do you use on a daily basis to succeed?
Book or podcast you're listening to and loving right now?
Podcasts:
Offline by Alison Rice: Not related to digital marketing, but a must for everyone. The most incredible real conversations about the true self. Start at episode 1.
Think Act Get with James Schramko & Ezra Firestone: They've finished this up now but it's still one of my all time favourites. I listened to the first 12 episodes on a flight back from Hawaii and my life has never been the same since. Start at episode 1.
Masters of Scale with Reid Hoffman: Start anywhere and enjoy this business growth and scale podcast that delves into the lives of some incredible people and how they built their businesses.
Books:
12 Rules for life by Jordan B Peterson
Homo Deus by Yuval Noah Harari
What's one of your favourite newsletters that you're signed up to?
Adore Beauty. I love how consistent, targeted and personalised their newsletters are. They also recently won the best email marketing award at the power retail all-star bash, so I don't think I'm alone here.
Your biggest advice for SMMs just starting their career?
1. Work with someone who has experience.
2. Find the right balance between meeting your client's expectations (e.g. gaining likes and followers) but also focus on the work that will help achieve their objectives (e.g. sales). Often their expectations are not consistent with their goals – but there will be a middle ground which when you find, will be golden.
Seema Nayak
Seema is a Digital Marketing Specialist with a decade of experience in helping businesses grow. She loves mountains, slow travel, and animals. Connect with her on Twitter at @seemanayak.