News and Trends
Social Media News: Instagram E-Commerce Upgrades, Facebook Ad Issues and April Fools Pranks
Following the crash of Instagram, Whatsapp and Facebook two weeks ago, advertisers are still facing Facebook ad issues. Team this with new Instagram e-commerce features, hilarious April Fools pranks and more. Here's the latest in social media news:
Instagram is Expanding Shopping Features
Following last week's announcement that in-app shopping is becoming a thing on Instagram, reverse engineer, Jane Manchun Wong has discovered a few sneaky updates too.
Shopping Explore Page
Instagram's new e-commerce shopping feature has been likened to an 'online mall.' And with a new explore feature linking a range of shops all in the one place, it totally is.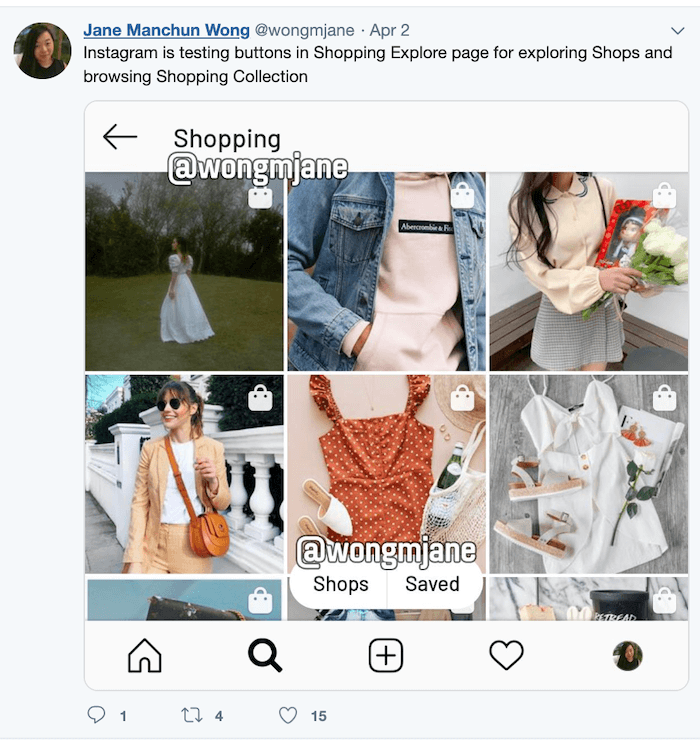 Are you an e-commerce brand? If so, there's never been a better time to make sure you have shoppable posts activated on your account. That way, when in-app purchasing is rolled out to all accounts, you'll be prepared and raring to go.
Shopping Bag Tab
What's an online store without a shopping bag? Jane Manchun Wong has also revealed a new tab for shoppers.
This means users will be able to see which items they have added to their shopping bag. With information gained from items added to a 'Shopping Bag,' we predict advertisers will have a better understanding of their customer's purchasing behaviours.

Public Submissions for Facebook's Content
Late last year, Facebook revealed they were planning to launch an external content oversight board. This would allow the public to moderate and have their say on more controversial policy decisions.
TechCrunch reported earlier this week that Facebook is opening a 'public consultation process.' And over the next six weeks will accept submissions from the public about its plans.
Participants submit answers via a questionnaire and free form questions.
This is a clever strategy for Facebook. It's no secret that Facebook has made controversial decisions in the past. However, with collaborative decision-making with the public, less heat will be on Facebook themselves.
Want to have your say? Check out the Oversight Board information page and survey here.
Facebook Ad Issues Continue Two Weeks After Outage
Does your business run paid ads on Instagram and Facebook?
If so, you might have noticed that the price of ads has increased since the global outage two weeks ago.
And you're not alone on this one.
According to Digidaily, ad prices have "surged" following the crash. Digidaily noted that agency Social Outlier had previously spent between $7-$11 per 1000 impressions, and they're now paying upwards of $40. On the other hand, they also report that Wonghaus Media has suffered with their reach instead.
Since paid advertising is front and centre for many businesses, these changes could be affecting sales, brand awareness and more.
Those with smaller ad spend appear to be struggling the most while some larger companies have lost out on close to $60,000.
Creating engaging, branded content is still important – despite paid advertising success.
Some ways brands can help to compensate for the sky-high ad costs are to:
Re-evaluate social media strategies – are ideal clients still engaging with the brand the way they once were? And are they still on the same platform/s?
Implement or nurture email marketing – By growing email lists through social media posts that include a call to action, contact with warm leads can continue with ease
Facebook Might Launch a New Tab for 'Trusted Journalism'
Over the years, we've seen a fair share of ridiculous news clogging up our newsfeeds.
And in an attempt to become a known source for reputable news, Facebook is exploring the introduction of a new tab for truthful news.
As reported on by Social Media Today, Mark Zuckerberg has said:
"One of the things that's really worked over the last year or two is we've launched [Facebook Watch] for video, where people weren't getting all the video they wanted in News Feed could go to a place that's a dedicated space to get video. Because that has started to really grow quickly, we've decided that there really is an opportunity to do something like that with news as well."
Facebook already has the highest news percentage over any other social media site. However, by moving this content into another tab, it could free up room in the feed for business's content.
Image Source: Social Media Today
Reviewing the types of content that your business is receiving the most traction from is key. Since less news equals more real estate in the feed, have a think over which types of content are going to get the most eyes on them.
For example, these could be things like:
Introductory posts of your team
Branded gifs and memes
Engagement boosters asking questions, using polls or commenting on controversial topics
Facebook Changes to Protect the Community
Earlier this week, WIRED reported that Facebook was exploring Facebook Live restrictions. Those who have breached Facebook's Community Standards in the past would receive the limits.
Zuckerberg initially said Facebook Live created "new opportunities for people to come together."  But this has since been used in disturbing ways. Following Christchurch's recent live streamed attack, this calls for big changes for Facebook moving forward.
'Google Tulip' the Hilarious April Fools Prank
On April Fools Day, we saw many brands and businesses publishing pranks. But none came close to Google's clever 'Tulip' trickery.
Ensure you and your clients are up to date and prepared for upcoming special dates with our April, May and June Social Media Holiday Guide.
What's New at Sked Social?
We could not be more excited to finally share newly released Collaborate feature on Sked!
As a social media scheduler designed specifically for agencies, Sked's Collaboration feature makes it easier than ever for teams to create, share and revise a content plan.
Within the Collaborate feature, you're able to upload images for a business, have them approved using the status update toggle, and do the same with captions.
Anyone on your team (or those without a Sked Account) can make comments on posts. Any member who doesn't have a Sked Account can receive an external review URL to make their revisions. This means that there's no more double handling of content. Your entire social media content plan and review process, right through to publishing can all be managed through Sked.
Check out the Sked Social Collaborate feature and discover how to streamline your approval process, maximise productivity and minimise time spent in the revision process!
Curious to know how Sked Social works? Join us to carve out 5+ hours in your social media creation, planning and publishing stages with a free 7-day trial. Within the platform, you can schedule Instagram posts, Stories and Tweets! Research and organise hashtags, then automatically post them in the first comment – invite people in to review content and collaborate all in the one place!
Danielle Read
Danielle is the Founder of Readcity Writing, a copywriting and digital marketing biz helping small businesses reach wider audiences through edgy online marketing strategies. When Danielle's not writing articles, creating social media campaigns and wistfully looking out her window, she's playing drums in a band and hanging out with office cat Larry.