Blog
Social Media News: Stop Motion Video, Facebook Cryptocurrency and IGTV Ideas
From Instagram's stop motion video testing and a new cryptocurrency for Facebook. To Facebook Business Page tidy ups and Twitter tweaks. Here's the latest in social media news.
Instagram tests stop motion video
We can always count on Jane Manchun Wong to share the scoop on Instagram's latest backend experiments.
This week, it's stop motion videos. You know, those little clips that make inanimate objects look like they're moving?
This is an exciting time for those in creative industries, and since storytelling is at the forefront of everyone's minds on social – we love this extra function.
While the stop motion videos currently allow for ten frames posted as their own Story, it's anticipated that these will hopefully be merged into a single story for ease of viewing.
Here are some ideas on how brands can use stop motion to their advantage across industries.
Fashion brands – Building outfits one piece at a time
Travel brands – Creating sharable adventures of brand mascots
Creative brands – Humanising your tools to grow connections between your craft and your audience (i.e. pens and paints)
Facebook is removing certain Business Page features
Facebook is constantly evolving to enhance the user-experience. But what we don't often see is the removal of elements.
If you're frequenting the Facebook Business portal on a regular basis, you would have noticed some warnings popping up.
But which sections, in particular, will be removed? According to Social Media Today, these sections are:
Mission
Company Overview
Biography
Affiliation
Personal Interests
Why? It's presumed that these areas aren't widely read. Though it does cement the fact that conveying a brand's mission and values in social media captions has never been more important.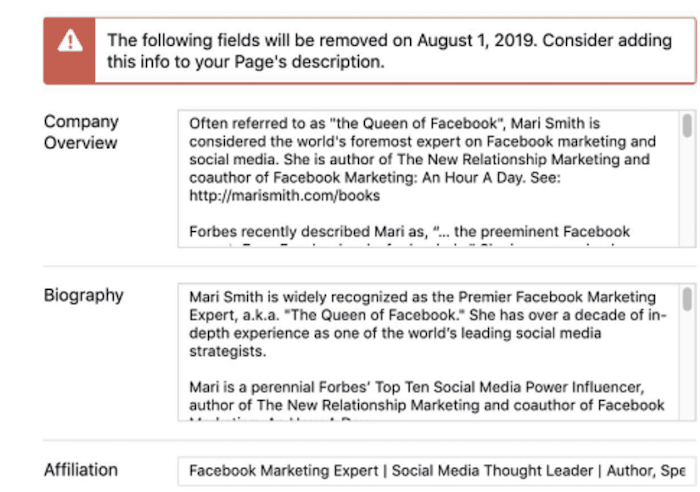 Removing such high-level overviews of a brand's overarching themes mean clarity within your messaging is an area to double-check within your social media strategy.
Twitter removes Geotagging
This week Twitter took down their geotagging feature. According to The Verge, no one was using it so Twitter called it a day.
Similarly to Instagram, Twitter initially anticipated that users would discover new connections by browsing locations.
Instead, users organised meeting up and connecting through trending topics and hashtags.
Were you or your clients searching geotags at business events? Perhaps you were building connections at conferences and meetings using this tactic.
Since Twitter geotagging is no longer available, we recommend using the location tag on other platforms and Twitter hashtags to discover new members of your ideal audience.
Facebook is launching its own cryptocurrency
This Tuesday, Facebook announced the launch of their new cryptocurrency, Libra.
While this new form of currency does have the potential to revolutionise online payments, it won't be available in China or India. Cryptocurrency is strictly banned in China and it's a no-go in India too.
So, what does this mean? Upon its launch in 2020 one in three people won't have access to the feature.
Are your clients or their ideal customers based in these locations?
Facebook's new cryptocurrency is being faced with much negativity. Some parts of America and the EU are up in arms about this new payment method too.
"US Financial Services chair Maxine Waters urged Facebook to stop the development of Libra immediately while France's finance minister said it could not be allowed to become a sovereign currency, just hours after the official announcement, reports Business Insider.
Stay tuned for advancements and the questionable launch set to kick off in 2020.
ICYMI: The Latest Social Media Articles
What's New at Sked Social
Are you still grappling with Instagram's algorithm this year? How about coming up with fresh IGTV ideas? This week we brought you insights into how to tackle both with confidence.
2019 Update: How the Instagram Algorithm Works and What This Means for Businesses
What does the Instagram algorithm want you to post? And what are the best ways to get your or your client's posts to the top of the feed? Get the lowdown on everything you need to know about Instagram's 2019 algorithm.
9 Brilliant IGTV Content Ideas from Top Brands
It's no secret that IGTV is on the rise in popularity. Ever since Instagram upped its functionality to support portrait and landscape posting, reposting to feeds and stories – 'grammers have gone nuts! Don't miss the train that is IGTV's heightened reach and influence. Here we share 9 IGTV content ideas, direct from top brands.
If you're looking to carve out hours in your social media workflow, sign up for Sked's 7-day trial. Our all-in-one Instagram scheduler allows you to automatically post images, carousels, Stories, videos and more. Tag locations, users and products and manage all your hashtags in one place to save 5+ hours every week.

Danielle Read
Danielle is the Founder of Readcity Writing, a copywriting and digital marketing biz helping small businesses reach wider audiences through edgy online marketing strategies. When Danielle's not writing articles, creating social media campaigns and wistfully looking out her window, she's playing drums in a band and hanging out with office cat Larry.