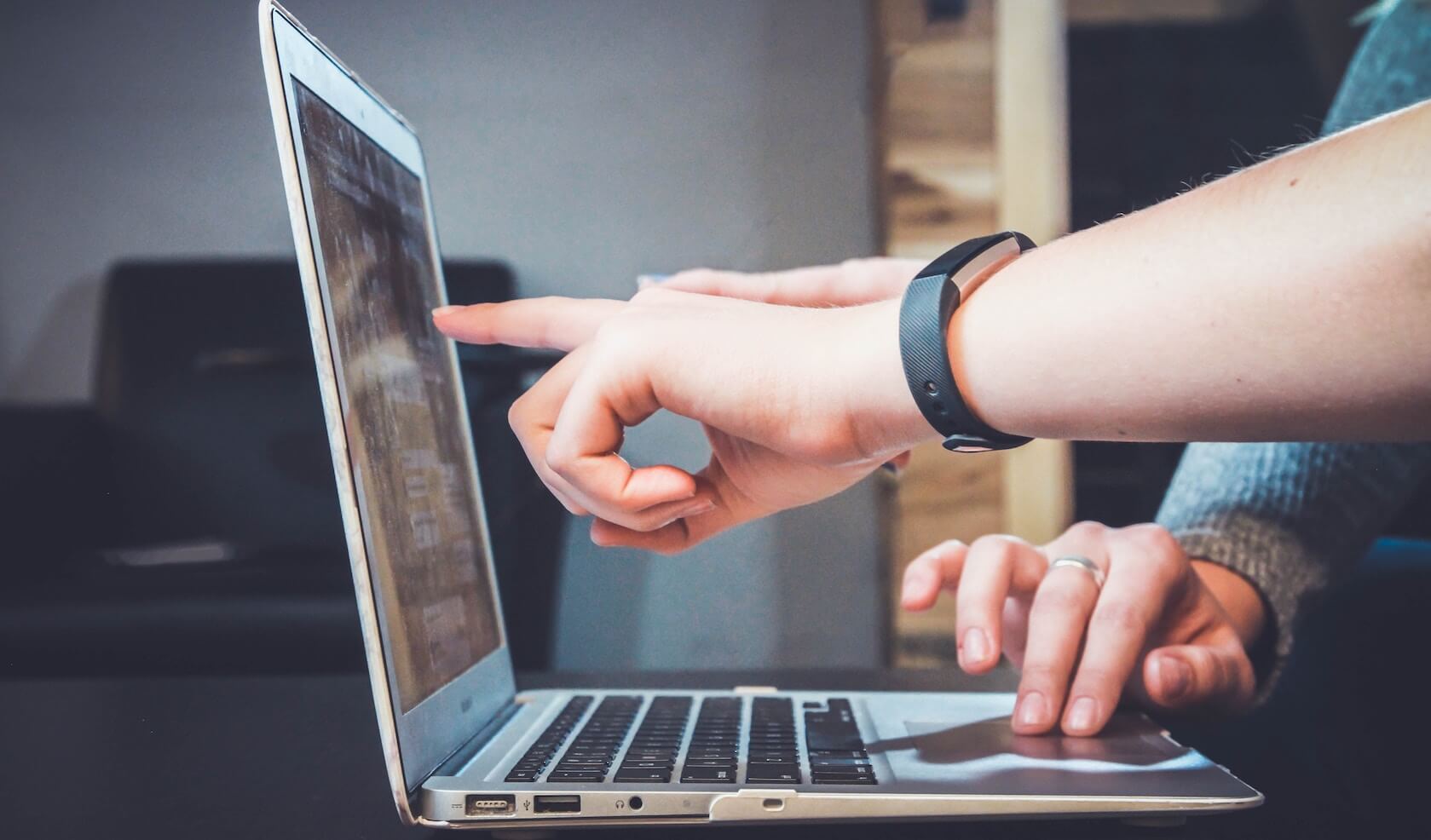 You know your brand needs an active presence on social media.
And if you're going to see any ROI for your efforts, you know you need to understand your market and craft an effective strategy.
But here's the thing: You want (alright, need) those results. But you also don't want to waste a ton of time getting them.
You're on the lookout for any way to streamline the posting process. This means you definitely don't want to be copying, pasting, and manually posting to all your different accounts.
This is where the best social media scheduling tools come into play. They save you time by allowing you to:
Easily upload posts
Schedule content to send out to your different audiences
Avoid repeating the same process over and over again
Even more than trimming down hours, top social media scheduling tools keep you accountable to your strategy. It's easy to lose track of your social media goals when you're scrambling to post. Randomly sharing content in the eleventh hour – just to meet a quota or get something out.
By using a tool to schedule out your content, you:
Create more cohesive messaging
Stay focussed on your overall social media objectives
Are you sold on the benefits of the best social media scheduling tools? High fives for you.
Here's the next question: Which one should you choose? There's certainly no shortage of options out there. So how can you find the social media scheduler that's the best fit for your needs?
There's no one right answer for everybody. So we're comparing seven popular, reputable choices. This way you'll have the exact details you need to effectively weigh your options before making your selection.
Supported Platforms:
Instagram
Facebook
Twitter
Cost: Free 7-day trial and plans start at just $25 per month.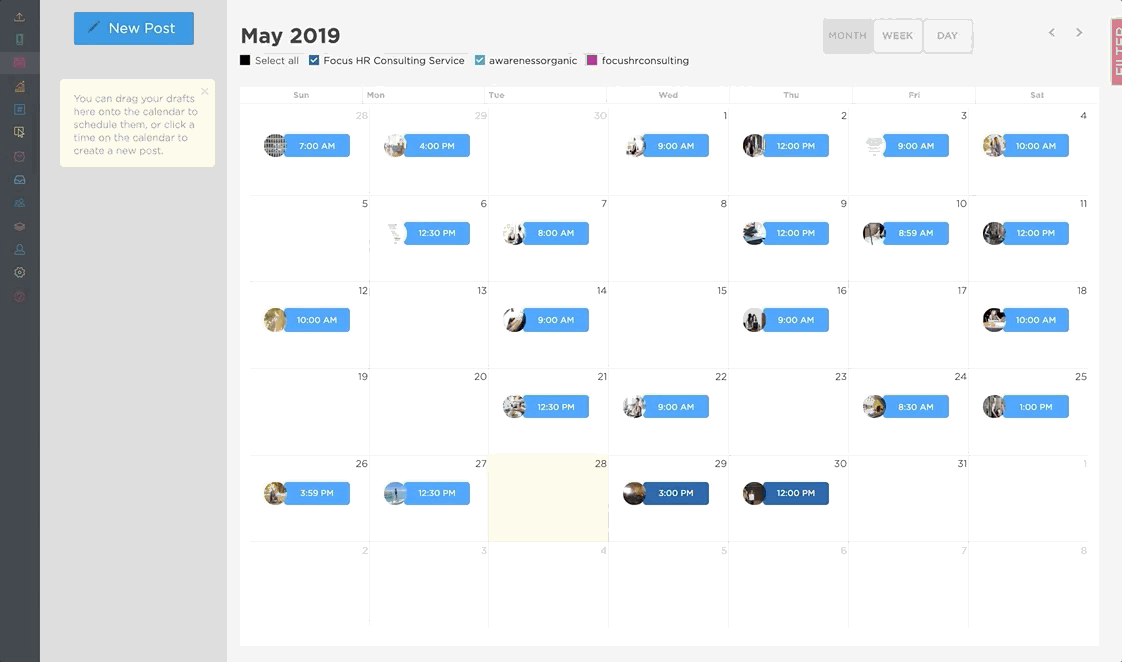 May we be so bold as to put Sked Social first on this list? We might be a little biased, but we think Sked offers tons of the features you're looking for in a social media scheduler.
Easily Create, Schedule and Report on all Your Instagram Content
Since we started with a primary focus on Instagram, Sked is packed full of helpful tools to take your Instagram accounts to the next level.
Key standouts for Instagram scheduling with Sked Social are:
Automatically add hashtags to the first comment of posts
Tagg people, products and locations in the scheduling phase
Save hashtag lists with the Template Manager
Regram content with the Google Chrome Extension or a URL
Schedule posts, carousels, video or Story content for auto-posting without annoying notifications from one place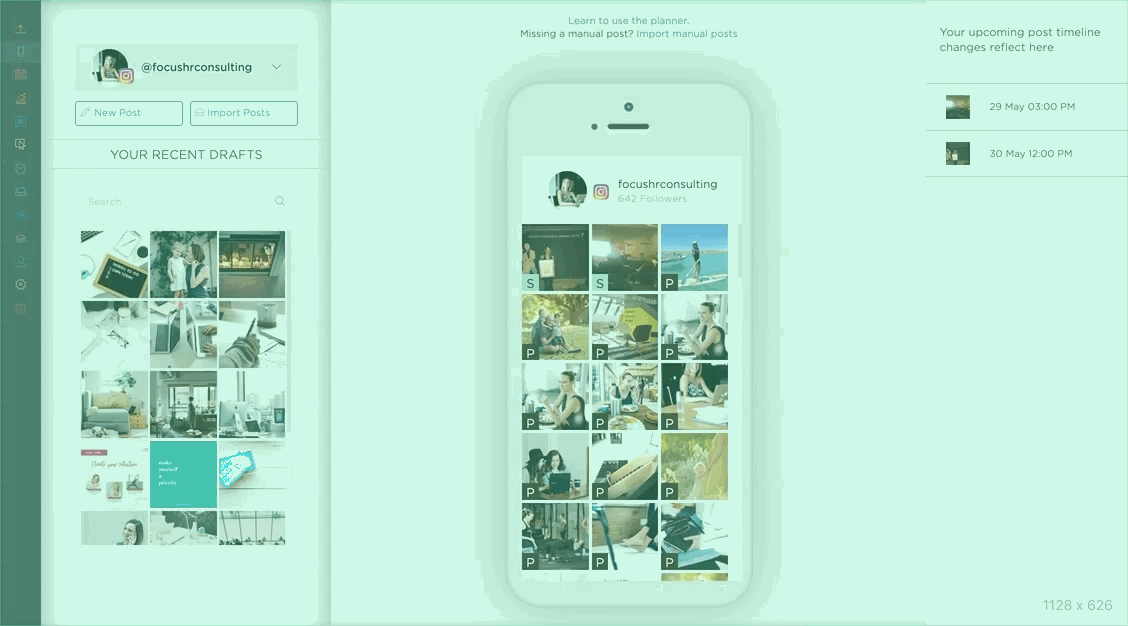 Our in-app photo editor offers over 60 filters, plus various stickers, texts, and overlays to make any photo content look just the way you want.
The visual planner allows you to map out your feed and create a more cohesive aesthetic across your entire Instagram grid.
Visual content aside, Sked also offers:
Robust reporting and analytics
Bulk uploading
A mobile app so you can check in on and schedule content from anywhere
A social media calendar with comprehensive scheduling abilities
A hashtag recommendation tool to take the guesswork out of hashtag research
Schedule Content for Multiple Social Media Platforms from One Scheduler
While we still consider Instagram our first love, we've already rolled out many of our features for Facebook and Twitter!
Upload content for all platforms from:
Your phone
Computer
Google Drive
Dropbox
Or drag and drop
Don't have a photo to post? No problem! Create new content using Canva, straight from the upload screen.
With Sked Social, you can also schedule content to multiple platforms all at the same time. Our 'Common Caption' function allows you to automatically copy the same caption across platforms. This can save hours in itself.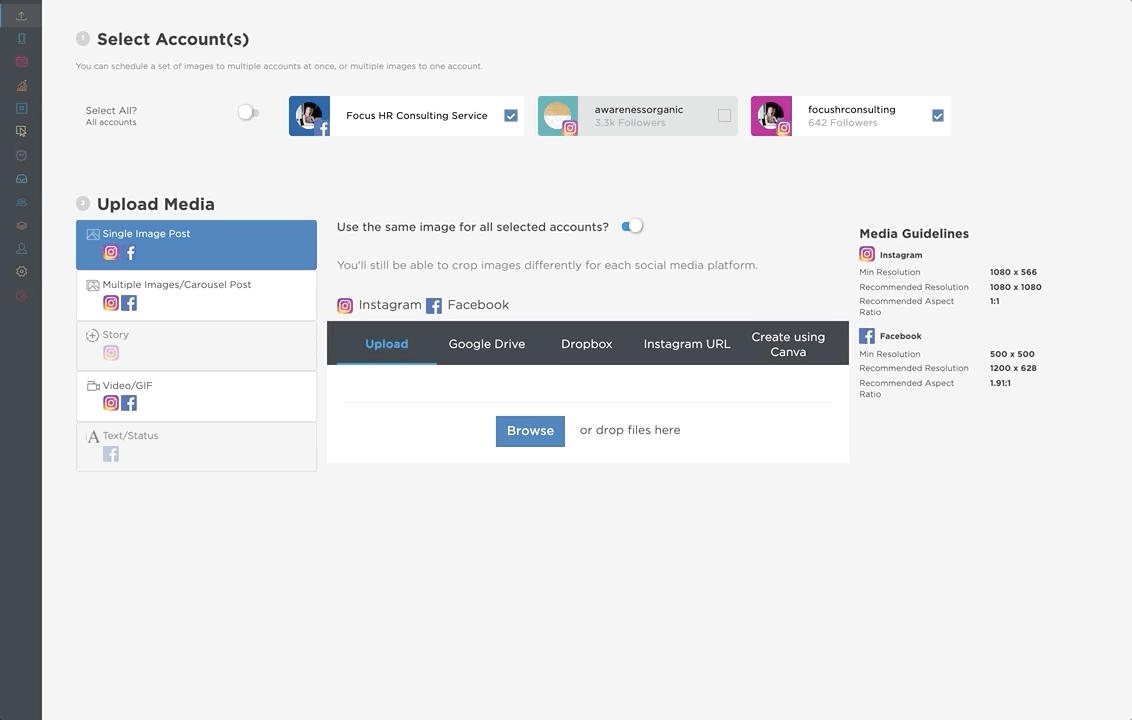 You're also able to customise these captions to better suit each platform, without having to retype or copy and paste every one. For example, easily change a 'link in bio' reference on an Instagram post to a pasted link in a Facebook post.
Sked Social's Queue settings can also be used across platforms. Let's say your content always performs better on Instagram in the morning. But nighttime is where it's at on Facebook. Simply enable Queue settings, select your optimum times for each platform. Then Sked will automatically post for you across each platform.

To recap, Sked Social's main features are:
Easy scheduling
Planner view of scheduled or queued content
Calendar view
Analytics
Hashtag lists and first comment scheduling
Multiple users
View multiple accounts from one screen
Have multiple users
And so much more!
Con: Sked Social doesn't currently schedule content for Pinterest and LinkedIn. However, we're always looking to find new ways to assist our users and will be exploring these capabilities in the future.
2. Buffer

Supported Platforms:
Twitter
Facebook
Pinterest
Instagram
LinkedIn
Cost: Buffer offers a free plan that covers three social media accounts and one user, but paid plans start at $15 per month.
Buffer is another one of the top social media scheduling tools. It doesn't place as much emphasis on the visual elements and bells and whistles, but it's a solid option for people who want one place to schedule content and monitor the results.
Buffer offers both a browser extension and a mobile app so that you can schedule social media content anytime and anywhere.
While Buffer is enough to cover the basics, they've also rolled out some added services like Buffer Reply (which is a paid option starting at $50 per month). This pulls all of your comments, pings, and social media conversations into one dashboard—so you can reply and engage with your users without hopping in and out of accounts.
Cons: Unfortunately, Buffer doesn't allow for multiple users on their free account and you'll need to log in with an Instagram Account's credentials, making this a compromising position when contractors are granted access to confidential information.
Buffer also doesn't offer Instagram Story scheduling or product tagging. For Social Media Managers, these functions are a bare necessity for client accounts. The whole point of a social media scheduler is that you don't need to manually post a thing. However, with Buffer, you'll still need to go into Instagram and add your tagged accounts and upload Stories.
Buffer also only works with Business Accounts, which could be an issue if you're working with influencers and personal brands.
3. Later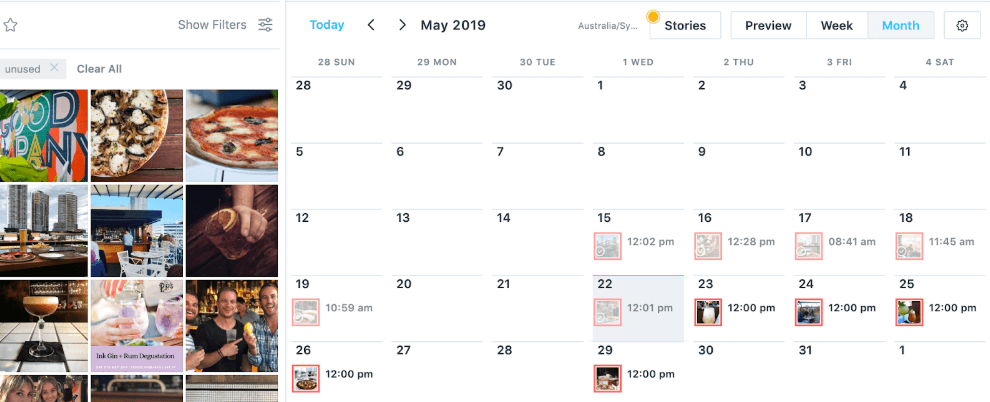 Supported Platforms:
Instagram
Facebook
Twitter
Pinterest
Cost: Later offers a free plan that caps your number of social profiles and posts. Paid plans begin at $9 per month.
Later supports Facebook, Twitter, and Pinterest. But throws most of its energy and attention into planning, managing, and scheduling content for Instagram.
In terms of functionality for that platform, Later doesn't disappoint, placing it as one of the top Social Media scheduling tools. Of course, there are features you'd expect—like easy-to-use scheduling and analytics.
But there are also some other tools and features that might come in handy.
Later offers:
A visual planner to map out your Instagram grid
The ability to find user-generated content and save it to your own library
Shoppable post sharing
Later's file storage is also worthy of note. This tool makes it easy to import media from anywhere and keep it organized in your library using different labels.
Cons: On the down-side, you must have a Business Facebook page connected to your account to auto-post and posts of certain dimensions or file sizes can't be uploaded on free accounts.
Free plans also don't allow you to view posts two weeks prior or have access to any analytics. Analytics serves as an integral tool for tracking results, and unless you want to manually input data from Instagram's inbuilt analytics on a weekly basis, having analytics integrated with your social media scheduler is basically essential.
4. Tailwind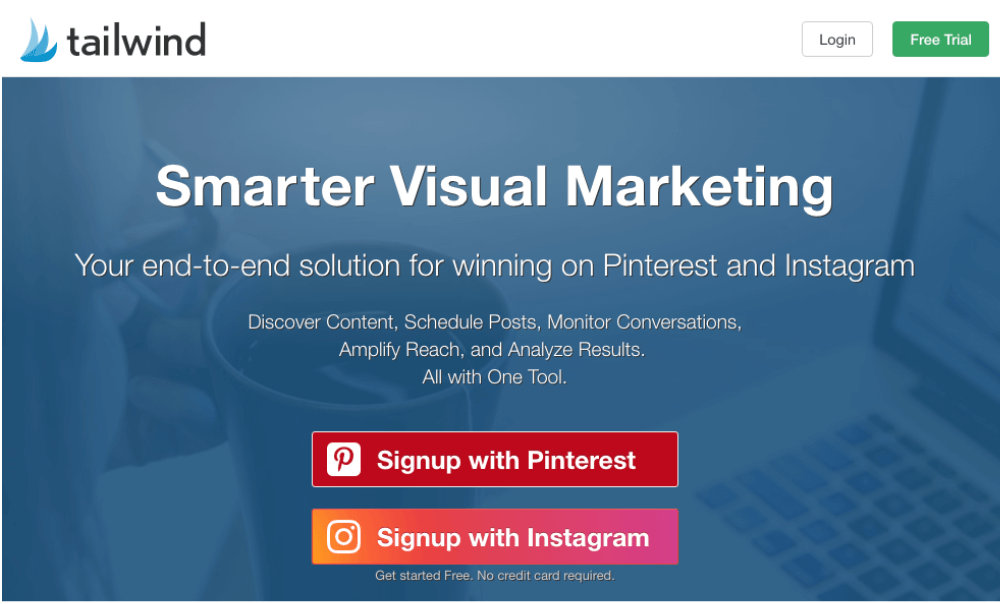 Supported Platforms:
Cost: Plans begin at $9.99 per month.
Tailwind is another tool that focuses mostly on visual content, as it currently only supports Instagram and Pinterest.
The tool offers a lot of the same features as the other schedulers, with a few other twists intended to help users increase their engagement with their followers.
Tailwind also helps you optimize your Pinterest and Instagram posting schedules. This way you know you're sending out content at times when your audience is most engaged. On Pinterest in particular, Tailwind SmartLoop will reshare your top Pinterest pins at optimal times for engagement.
Tailwind's Hashtag Finder can also suggest the most popular hashtags to use with your post.
Cons: Tailwind's supported platforms are limited, so if you're looking for an all-in-one scheduling tool, unfortunately, this one's not for you.
Their lowest price point 'Plus' Plan does start at $9.99 per month, but it's functions are limited to one account. If you have multiple team members (up to 5) who you want to collaborate on content with, you'll need to upgrade to the 'Professional' Plan at a whopping $799 per month. While it does make the list for top social media scheduling tools, it's suited to those with a generous budget.
5. Sprout Social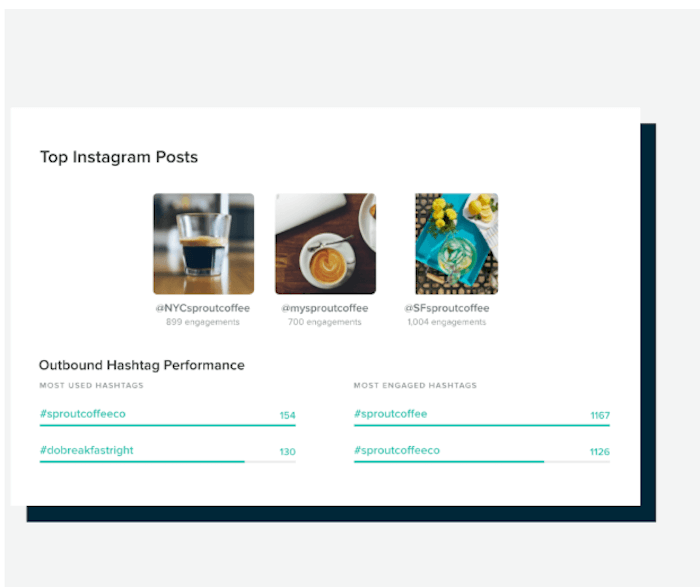 Supported Platforms:
Twitter
Facebook
Instagram
LinkedIn
Pinterest
Google+
Cost: Plans start at $99 per user per month.
When we say that Sprout Social is comprehensive, we really mean it. Making it one of the top social media scheduling tools. Sprout Social is so much more than a social media scheduler—it's software for nearly every aspect of your social media management.
In fact, Sprout Social comes packed with so many different features, it breaks them into the following categories:
Analytics
Engagement
Publishing
Listening
Collaboration
Automation
From optimizing your social interactions to keeping a close eye on any trends, Sprout Social is undoubtedly an exhaustive solution.
Cons: You cannot choose specific times to post, rather you can only choose the frequency of posts. This is a major downfall for accounts who want to post at follower peak times.
Also, be forewarned that Sprout Social comes with the price tag to match. So, if you're highly concerned about budget or only require a more limited tool, this probably isn't the right fit for you.
Other features that are missing? Product tagging, tagging other accounts and hashtags to first comment auto-posting.
6. HootSuite

Supported Platforms:
Facebook
Instagram
YouTube
LinkedIn
Twitter
Pinterest
Cost: Plans begin at $39 per month.
HootSuite is another household name in the world of social media scheduling tools. And, much like Sprout Social, it has all sorts of features you didn't even know you needed.
As you'd expect, HootSuite allows you to bulk upload and schedule hundreds of social media posts all at once. Want to schedule content while you're on the train or waiting at the dentist office? HootSuite's browser extension and mobile app make it easy to do so from wherever you are.
Another cool feature of HootSuite is that it empowers you to find relevant content that you can share or repost. You can search by hashtag, location, or keyword to find existing posts that you can curate and share to your own account.
Cons: It feels like HootSuite offers fancy things, but misses the mark on the basic essentials. For example, you can't tag accounts, locations or products.
You're also limited to just 5 collaborators and if you want any more, you need to fork out for their $785 per month package. Free plans allow for just 3 social profiles and if you're managing multiple clients, this is just too restrictive. Let's say you have 5 clients with 3 social profiles each.
Already you're looking to have the $169 option as your only choice. Not good news if you're planning on growing your client base in the future.
You may also like:
7. CoSchedule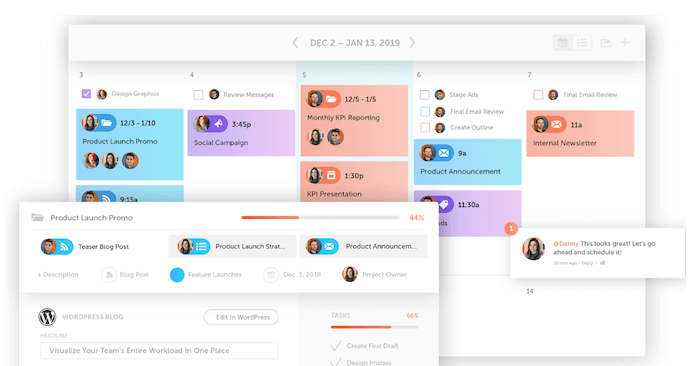 Supported Platforms:
Twitter
Facebook
Pinterest
LinkedIn
Google+
Tumblr
Cost: Individual plans begin at $80 per month.
Those who know CoSchedule know that it's pretty comprehensive.
The tool bills itself as the "#1 marketing project management platform" and offers everything from a marketing calendar and email marketing capabilities to analytics and agile project management.
But let's focus on the social media scheduler in particular. After all, it's what landed CoSchedule on our list of best social media scheduling tools. CoSchedule allows you to schedule social media content for all sorts of accounts. However, be aware that the tool doesn't directly advertise that they're a go-to for Instagram scheduling.
In addition to bulk uploads and the ability to curate content from all over the web, CoSchedule also helps you send your content out into the world at the perfect time. When scheduling a post, you can select "Best Time Scheduling" to have that post go live at a time when traffic is high and your followers are most engaged.
Cons: Their least expensive plan is pretty limiting. You're only able to have 3 users, 10 social media profiles and if you're paying monthly, this starts at $89.
You can't export PDF analytics reports and photo editing is non-existent. Considering that visuals are a key component to social media, this is pretty disappointing to potential users.
Finding Your Fit: Choosing the Best Social Media Scheduling Tool for You
Obviously, there are numerous social media scheduling platforms available to you—the above seven are the most popular and reputable, but they hardly even scratch the surface on all of the different options that are out there. But which is the best social media scheduling tool for you?
As you're evaluating them, remember that there isn't one right choice for everybody. Instead, weigh up your own requirements to find the tool that's best for your unique needs and situation.
What sorts of things should you be thinking about? As you're perusing your options, make sure you think through:
Budget: Is this a solution within your software budget
Platforms: Which platforms do you need to schedule content to?
Features: Are there any must-have features you can think of—such as analytics or a feed planner?
Ease of Use: Will you be the only one using the tool? Or does it need to be user-friendly enough for many team members to use it?
Collaboration: Similarly, do you need any functionality to successfully collaborate with your team through the tool?
Thinking through criteria like this will help you stay focused on what's most important for you. This way you'll end up choosing a tool that actually saves you time (and headaches)!
As your all-in-one social media scheduler, Sked Social caters to every step of your social media needs. On top of that, with its integrated features, Sked Social saves its users 5+ hours per week on average. Claim your 7-day free trial of Sked Social today and see for yourself!
Kat Boogaard
Kat Boogaard is a freelance writer, who writes for Sked Social about marketing strategy. She's a compulsive organiser with a penchant for dogs and tacos – in that order.