Recently, Schedugram was rebranded to Sked Social and we redesigned our dashboard. We shipped quite a few improvements and incorporated your feedback in order to make it work better for you. However, we know switching to a completely new interface can be a bit confusing which is why we've prepared a few quick intro guides for the new platform.
In this post, we are going to show you how to upload content to a single social media channel on Sked Social. We will also show you upload content to multiple social channels at once.
Upload content to a single channel
Getting started
From the dashboard on the Sked Social app, you want to select Upload Posts from the menu on the left hand side.
Select accounts
You will now see the Upload Posts screen. Select the account you'd like to post from in the Select Account(s) section. For now, we will focus on posting via a single social media channel. Tick the checkbox next to the account you want to post from. You will see that below the Upload Media section has become active. This section will appear as greyed out before you select an account to post from.
Select post type and upload your content
Once you've done that, you can choose the post type and upload the content you want posted:
Upload your content by clicking on Browse or choosing another source for getting your content:
Now, you can upload your content. There are lots of options for what this could be. 
This includes Single Image Post, Multiple Images/Carousel Post, Story, Video and Text/Status.
Underneath each different post type there is a corresponding social network logo. This shows where you are able to post the different types of content. For example, you can only post Text/Status via Facebook.
The Upload Media dashboard has options for where you are uploading your content from. This includes uploading direct from your computer, Google Drive, Dropbox, Instagram URL and Create using Canva.
On the right hand side, you will see Media Guidelines. This section will tell you the resolution your content needs to be. It will also tell you the recommended resolution and recommend aspect ratio. This will help you make sure your uploaded content looks its best.
Once you have chosen the content, you will see a blue Continue button above your selected files. Click the Continue button.
Enter post details
On this next screen, you can enter your caption and add any hashtags or emoji.
Edit your image
You can use our Image Editor to make any last edits to your content. crop it, polish it or add filters:
Schedule your post or choose its destination
Make sure to click on Save. After you've done so, you can choose a Time & Date for your post, add it to your Queue or choose to Send it to your drafts.
Click Submit & Create posts to save!
Once you've added your caption, selected the Time & Date for the post or added it to your Queue, go ahead and click on Submit & Create posts in the upper right corner.
Here's a quick screencast on how to do just that:
You'll see a success message in the upper-right corner, your post is now ready to go!
Upload content to multiple channels
Now let's look at how to upload content to more than one social media channel.
Select accounts
Much like before, you want to go onto the Upload Posts section of the Sked Social app. This time, you will select more than one account to post from. We'll choose an Instagram account or Facebook account to post from.
Select type of post
Next up, select the type of post you want scheduled. We chose a Single Image Post in this instance:
Upload posts
You will now be able to upload the media that you are going to post to your different social media channels. Note that there is a toggle switch should you want to post different images on each channel.
On the right hand side, you will again see the Media guidelines for each social media channel. This ensures your content matches the dimensions for each different social channel. When you upload your image, a blue Continue button will appear and you can click that to process your image.
Here's a quick recap of how we did that:
Post Details
You will now be on the Post Details screen. You can choose to enter a common caption for each post, or enter a different caption for each post. You can crop and edit images as well. Note that any crops or edits made will apply to all the social media channels that you're posting the image to.
Sked has a 'common caption' feature, where you can enter one caption and have it post the same caption across multiple platforms (for example, Facebook and Instagram). The base caption will appear when you're scheduling to more than one platform:
To post the same caption (or have parts of the same caption) across multiple channels, enter your text into the common caption box. You'll see it appears below in the Instagram caption box:
If you want to add something to the end of a common caption just for one platform, you can do that too! Just put the cursor in the end and add the text – for example your @mentions for Instagram. The added text will show up as not italic, and it will only be posted to the active channel. Here's an example:
When I change the platform toggle over to Facebook, just the common caption is displayed – not the custom part I added:
To use a totally different caption on each platform, click the blue link icon to "unlink" the common caption, then enter the caption into the Instagram 'tab', but don't forget to click the Facebook platform toggle to enter a caption for Facebook! Here's what an unlinked caption looks like:
Edit your images
You can now choose to edit your images with our Image editor. You can add filters, stickers, crop your images and so much more. The Image editor works as shown here:
Crop your images
Use our Image editor to crop your images, you choose the most common dimensions or set your own in the lower left corner:
Make sure you to always click Save once you're done editing!
Schedule your posts
At the bottom of the screen, you have the option to Send to Draft, Add to Queue or select the Time/Date on which you want to post. Once you finish, click the blue Create Posts button at the top right of the Post Details screen.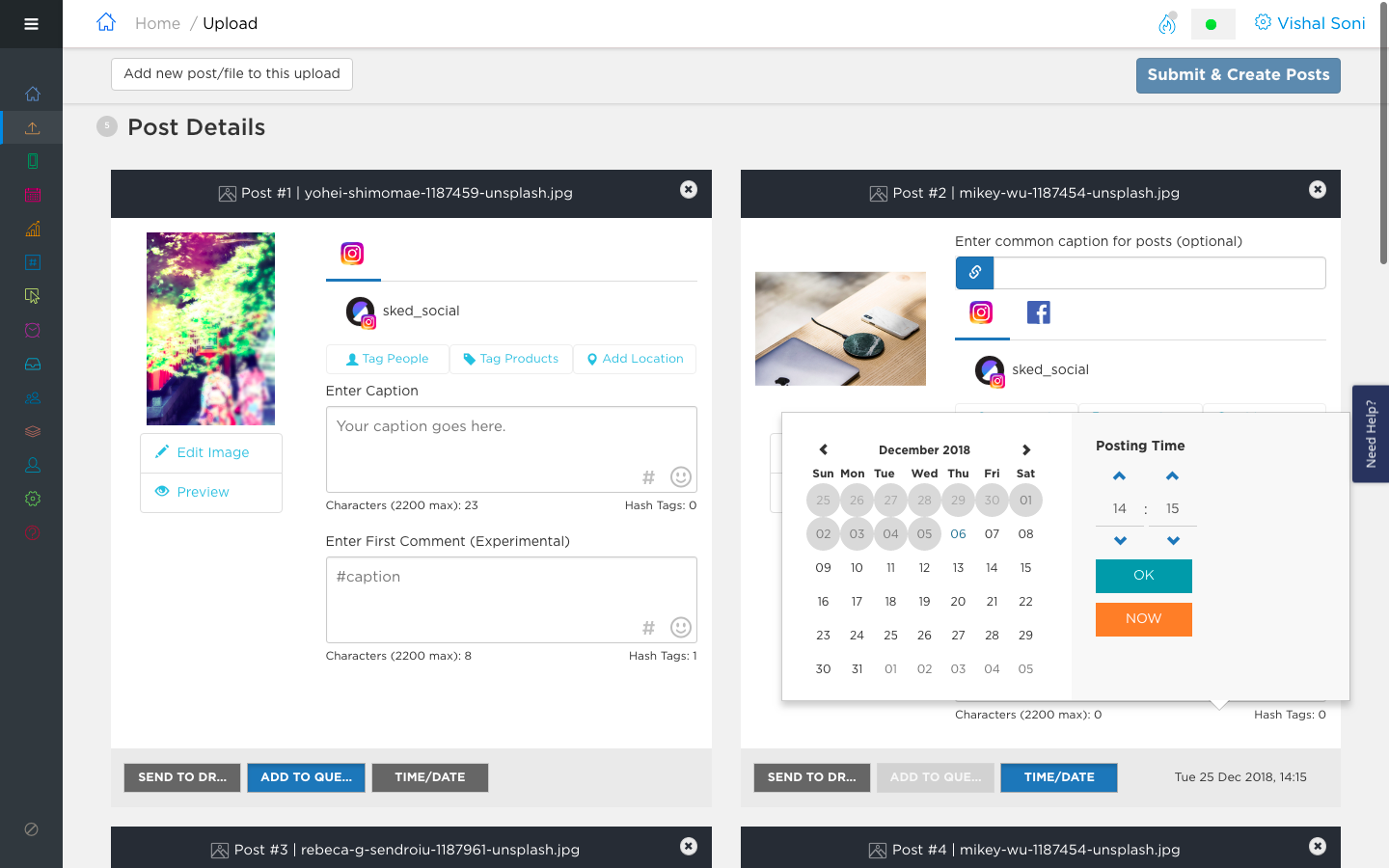 Click Submit & Create posts to save
Click on Submit & Create posts once you're done scheduling them. You should see a success message after you've done so:
The posts you scheduled will now be in the Upcoming Posts section. It has scheduled them to the different social channels selected with different captions.
Finito
We hope this post has helped. You can see how to upload content to one social channel, and how to upload content to more than one social channel. If you have any questions, please contact us.
Patrick Swift
Hi, my name is Patrick Swift, and I work for Juno Records' marketing department as Social Media and Content Assistant, which includes handling all of their social media networks.