This post was originally published on November 20th 2017, and was last updated on January 19th 2017.
The Art to Writing Good Instagram Captions
You've got a bunch of really good photos that you want to post on your brand's Instagram account.
Now, all you need to do is to come up with a GREAT caption that adds context, integrates personality and encourages followers to click the like button and comment.
How do you describe the image?
How do you get people to act?
What emojis should you use?
Trust me, I know how that feels.
Instagram's new algorithm prefers posts with higher initial engagement. So, if you have a good image but no comments, expect that the image (that you worked SO HARD for!) might only get a few likes and shares.
If you're like me, then I bet that you're wondering how on earth can you write good Instagram captions that stand out.
Don't worry! We've got you covered. Scroll down below to find out what you need to know (and how you can use some of Sked's, formerly known as Schedugram, neat tools) to craft better captions that boost engagement.
The Anatomy of a Good Instagram Caption
Captions consist of three main parts: context, personality, and a call-to-action.
You can have great photos, but it's hard for someone to relate to your photo and post as a whole if they can't connect with it, and these elements will help you achieve this.
Your captions need to explain and contextualize your images while keeping in line with your brand voice.
Tagging other Instagram users when appropriate and using relevant hashtags will also help you give the proper context to each image.
Did you know that you can tag users, locations, and products when you create a post in Sked? Just click on the 'Tag people' and 'Tag products' icons, and 'Location' box (see below) to tag any person, product or place you like.
To help people connect and engage with your posts, you should also add a bit of personality to your captions, and emojis can help you a lot with that.
Finally, you must definitely add a call-to-action to help readers engage even further with your brand.
So, in order to make readers engage with you, make sure that you include the following elements in your captions:
Determine Your Brand Voice
There's nothing more off-putting (or less believable) than a brand with no personality.
For that reason, you'll want to create a brand persona, so that your captions represent what your brand is about.
The simple act of finding two to four adjectives that can describe your brand such as "bold" "chill" and "fun" can help you create captions that embody these words.
This is a simple way you can come up with Instagram copy that has a consistent tone.
But how do you determine the adjectives that should describe your brand?
You can start by determining who your audience is. Here are a few questions that can help you get started:
How old are they?
Where do they live?
Are they mostly men or women?
What's their online personality like?
Once you have an idea of who you're talking to, then you can come up with captions that can answer questions like:
Will they think this is funny?
What are the emojis that I should add?
Do I need to add more explanations to make them understand what I'm trying to say?
One of the brands that have the best online persona is Denny's Dinner.
It's extremely popular for its consistently welcoming and chill brand voice that resonates with millennials and teenagers.
Another example is AirBnb's Instagram posts on off the beaten path destinations. As you read the captions, the community-driven storytelling can tempt you to pack your bags and go on a vacation.
As you know, coming up with a caption can take a lot of time and is a lot of pressure on the fly.
That's why scheduling your Instagram posts takes a lot of the stress away!
You can take your time coming up with a caption and schedule it at a later date! You can even schedule them out a few days or weeks in advance!
Pro tip: Just starting out and don't know where to begin?
Make a list of some of your favorite Instagram accounts that resonate with your brand. By doing this you'll figure out which direction you really want to go and then you can create your own voice!
Don't Forget to Add CTAs
Of course, simply coming up with a caption that embodies your brand's persona won't exactly get your viewers to visit your website or buy a product.
So be sure to include a call-to-action on your posts.
For instance, say you want followers to download your ebook.
You could tell viewers to click the link on your bio to download the free guide.
Or maybe, you could host a contest and encourage followers to tag their friends in the comments section to get new followers and increase online engagement.
Not sure what your call-to-action should be? Just include a simple action or question.
Tell them to vote for A or B, subscribe to the link on the bio, like or comment.
You can even ask them:
What are your thoughts?
Which is your favorite? can you relate? —to initiate a discussion.
For example, when Keds posts product photos, they make sure to add "tap to shop" and "link in our bio" to encourage viewers to act now and make a purchase.
Try using words such as "Like", "Buy", "Register" in your captions; these are great action words to let your followers know what you are wanting them to do.
Creating urgency is also a great way to encourage them to take action.
Using words like "Offer expires" and "For a short time only" are great ways to give your followers a sense of urgency.
Depending on your goal, you can choose which action works best for you.
Asking a question can help you in more ways than one! It will help you increase your engagement and it can help you to understand what your followers are wanting or looking for in your brand.
Even better, it works great with Instagram favoring high engagement posts!
Your followers are your biggest critics.
If you're wondering what product you should create next or what topic to write on for your next blog post, ask them!
The internet is never one to shy away from honesty and they'll definitely give you their two cents on whether your newest idea is a good or a bad one.
Running contests is also a great way to utilize call-to-actions and to increase your engagement!
You can ask your audience to tag a friend (or two!) in order to enter the contest, which drives engagement and awareness for your brand!
Having them tag a friend brings brand awareness to the friend and encourages them to share the post with their own friends, creating a domino effect.
When trying to decide which action you want your followers to take, you want to think about your goal of the post.
Are you trying to get them to buy a course?
Watch a new YouTube video?
Read a new blog post?
Shop your sale?
Once you determine your goal, it will make it easier for you to determine which action would work best.
Pro tip: When doing contests, always put "Contest" or "Giveaway" at the beginning of your caption to grab people's attention! Add an emoji to go with it and you're golden!
Choose the Right Hashtags
Now, that you understand the importance of CTAs and a consistent brand voice, it's time to choose your Instagram hashtag.
Use the "Explore" tab on Instagram to find a mix of popular and general keywords and filter results by tags.
You can also browse through popular posts to discover the hashtags that were used. And include a mix of popular and specific keywords in your caption.
Here's a post from Madewell that includes specific and general hashtags:
Another option is to come up with an original, branded hashtag to highlight your latest product or marketing campaign.
In recent years, these hashtags have also inspired engaging user-generated content online.
For example, Calvin Klein's #MyCalvins campaign encouraged tons of users to post pictures of themselves in their Calvin Klein underwear, in exchange for nothing in return.
What's great about the hashtag is that it includes the brand's name and the photos included in the brand's products.
Plus, pictures of popular personalities in their undies led to tons of likes and comments on Instagram.
Another example of a successful hashtag campaign is Coca-Cola's #ShareACoke.
People took photos of bottles that had famous locations or their friend's name. Not surprisingly, these photos generated online conversations among friends and loved ones.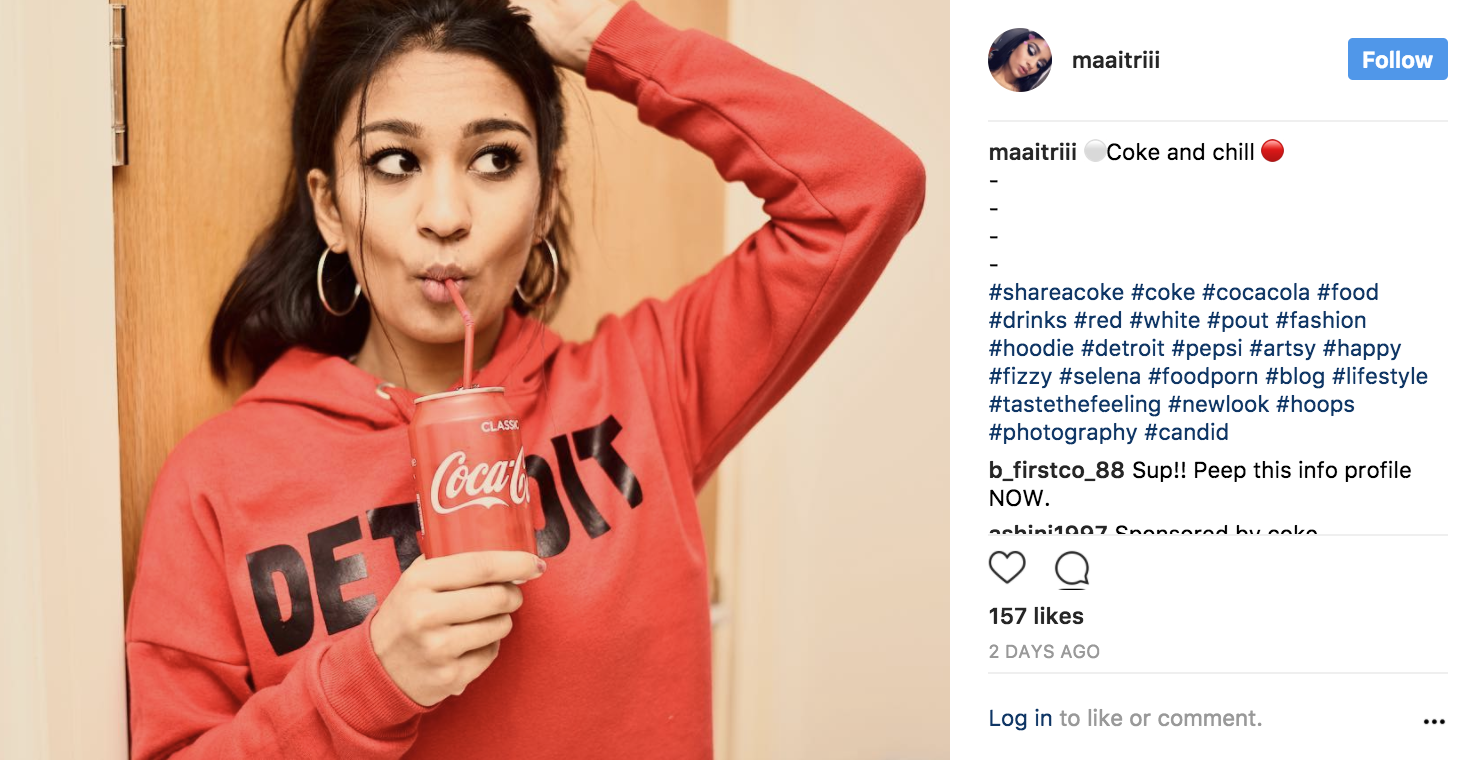 When deciding what hashtags to use you have to be strategic.
You can surely use the #f4f, #love, #instagood… and you'll gain a few followers.
But, are those really the type of people you want to target?
As much as having a ton of followers is great, you want to have a ton of followers that are engaged and interested in what you're posting.
You can easily get followers with the generic hashtags, but, at the end of the day, you're looking for people that will be genuinely engaged with your posts and interested in your page.
In order to find the best hashtags with quality followers, you want to use hashtags that have an engaging community and are specific to your audience.
How do you find these hashtags, you ask?
Check out what your competitors, industry leaders, and ideal audience are using!
They're most likely using the hashtags where your potential followers are hanging out.
You'd be surprised at how engaged the hashtags are the more niche they get.
Creating a branded hashtag is another great way to further connect with your followers.
It allows you to increase your engagement by encouraging your followers to use the branded hashtag and it also increases your reach when they use it with their own followers.
Branded Hashtags can also help with UGC (user-generated content) because once your followers start tagging their content with your hashtag, you will start having access to a vault of images that you can use on your own social media channels (don't forget to tag them!).
When using hashtags in your post, it's not necessary to use them within your caption.
But if you do, use between 1-3 hashtags.
Using more than that within the actual caption tends to make everything look cluttered, spammy, and actually decreases the engagement.
I know the last thing that you want is to have an account that looks spammy.
Instead, put your hashtags within the first comment.
This is really simple to do when you're creating a post using Sked.
And it allows your followers to focus on the fabulous caption that you created, without being distracted by a ton of hashtags.
Using the first comment also allows you to use up to 30 hashtags without making your post look cluttered.
How to Add Hashtags in a First Comment Using Sked
All you have to do is click on the hashtag icon in the first comment box (see below) after you've uploaded an image.
Then, add your hashtags and click save.
This will automatically store them in hashtag manager for you. And the next time you want to use them, you can easily find and add them without having to key them in manually.
Once you've got a few saved, you can group them and add them in bulk to your posts in just a couple of clicks.
Adding your hashtags as a first comment also allows your followers to focus on the fabulous caption that you created, without being distracted by a ton of hashtags.
To try it out, log in to your Sked account here or start a free trial if you don't have one.
Take Your Time
Did you know that Sked allows you to schedule the first comment? Now you don't have to worry about racing to add your hashtags when your photo or video posts.
If you're not using Sked, how do you hide all of the hashtags?
Immediately after posting, add a comment
Use either a period, dash, or asterisk each on a separate line (6 works best)
Add your hashtags
Your comment should now look like […] and your hashtags are now hidden
Once you have your set of hashtags, you can keep them in a notepad on your phone or computer so you don't have to continuously type them out!
Having a set of generic hashtags is great to use most of the time, but you also want to occasionally alter the hashtags that go with your post.
So, if your post is about a new product that was released and you're using #meeting, it's not relevant to the post and you'd be targeting the wrong audience.
Don't Forget to Add Mentions
Does your post feature an Instagram influencer?
Or, is it mostly user-generated content? Whatever the case show some appreciation and add these Instagrammers' handle on the caption so that your followers can check out their profile.
For example, Adobe's Instagram account shows some love for every artist they feature by mentioning them in the captions:
Who knows? This simple gesture might encourage other Instagrammers to create user-generated content featuring your brand too. And, you might even encourage these users' followers to check out your profile.
Did you know that you can add and store mentions in Sked in our hashtag manager (see below), just like you can with your hashtags? It makes adding them to your posts so much faster because you don't have to type them out every time.
With the dawn of influencers and as many more people are becoming Insta-famous, there has been a lot of controversy regarding the disclosure of sponsorships on posts.
It's important, now more than ever, to disclose if your post is, in fact, sponsored.
You can do this by adding "#sponsored" or "#ad" within your posts' captions; if you're one of the lucky accounts, you can add who your post is sponsored by in the area where you tag your location.
Use Emojis
A good Instagram caption isn't complete without an emoji. You can communicate the emotions that you felt in the photo by including an emoji to match the occasion.
For that reason, you might want to add a few emojis in every post that you make.
Let's say you want to reminisce and show some love in a travel re-post like @taramilktea.
You can do this by adding the flag of the country and a heart emoji.
You can also highlight your call-to-action by adding an emoji beside it.
You can have a signature emoji that you use at the end of your captions to further brand your business or you can switch it up, depending on what your post is about.
If you're doing a repost you can use the "📸" emoji and if you want your followers to comment you can use "👇🏻" to further catch their attention.
No matter what you use, make sure it goes with what your post is about!
Using random emojis can throw off the vibe of your post and hinder people wanting to engage with your page, and I know you don't want that!
If you're looking to carve out hours in your social media workflow, sign up for Sked's 7-day trial. Our all-in-one Instagram scheduler allows you to automatically post images, carousels, Stories, videos and more. Tag locations, users and products and manage all your hashtags in one place to save 5+ hours every week.
About the authors
Monique Danao is a freelance writer, content creator and copywriter with expertise in tech, food and digital marketing. When she's not creating her next big article, you'll find her enjoying funky food, listening to music and marketing startups. You may contact her through her website or follow her on Twitter.
Raisa Sendrovich is a Social Media Maven to the Stars, Fashion, and Beauty industry. She is the owner of Candidly Social, a premium social media management company where they specialize in celebrities, musicians, bold brands, and personalities. Connect with her on Instagram and Twitter.
Guest Author
Every once in a while, we team up with marketing and social media experts to bring you fresh tips and sleek writing. Our guest writers come from all backgrounds to share strong opinions on social media. You can contribute to Sked Social blog by emailing us a pitch at feedback[at]skedsocial.com!