How To Skyrocket Your Social Media ROI (And Avoid Burnout): The Sked Social Buyer's Guide
Are you and your team headed for burnout?
Social media marketing burnout has never been more real.
It may sound like a glamorous role, but the truth is, the quality of life that comes with your 24/7 responsibilities can really take its toll on you and your entire team.
And if you're aiming for perfection, the meticulous planning, writing, creating, scheduling, analyzing, and collaboration that's required is a tiresome cycle that kills creativity.
Plus, there's always a new deadline, channel or feature to add to the mix.
So, naturally, most digital marketers turn to tools that claim to melt away your frustrations.
They aim to ease your workflow. They're meant to simplify your 9 to 5 and transform your ROI.
But most of the time, they don't.
So how do you go about making your workweek flow faster?
How do you get more out your content? How do you drive more results for your brand or clients?
And more importantly, how do you regain your Saturday mornings — and not to mention, your sanity?
We've faced this problem before. And we've finally cracked the code.
And with Sked Social, you can too.
What Is Sked Social?
Sked Social is the industry-leading, all-in-one visual marketing platform that helps businesses, brands and agencies create, store, find and use their social media marketing content online – all while collaborating with staff and partners.
If you think Sked is only good for Instagram, think again…
Sked is now your go-to social media management platform for Facebook, Pinterest and Twitter too!
To put it in a nutshell, Sked is your answer to boosting social media ROI while avoiding team burnout.
We've helped over 10,000 of the world's most creative businesses— including the BBC, Boots and McCann to name just a few— save 100s of hours per year on their social media marketing management.
Are you ready to start saving too?
If you're looking for social media management software that
empowers your team to deliver rich content experiences
your customers deserve, whilst saving you time and increasing ROI – get Sked Social today.
Who Is Sked Social For?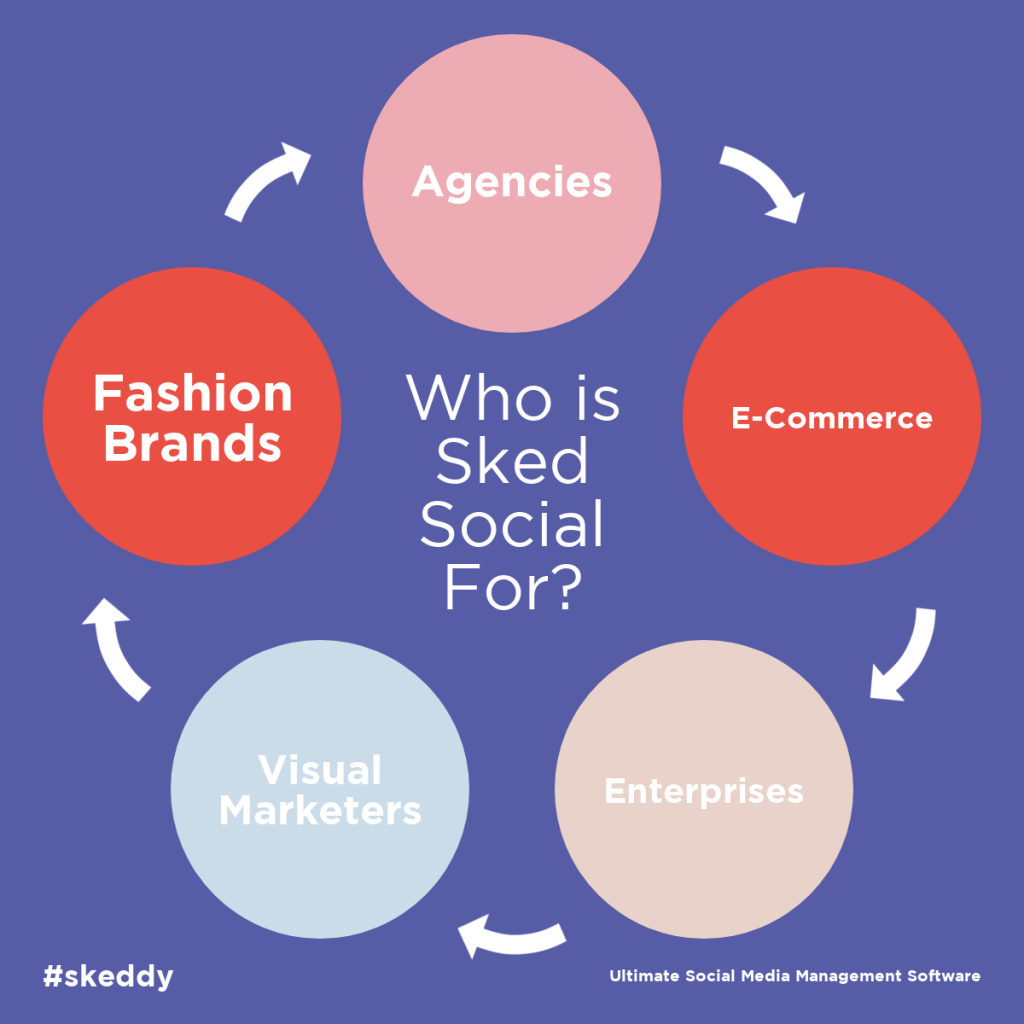 Sked Social is built to serve the needs of all ambitious professional marketers who collaborate within teams to plan, schedule, deploy and analyze their visual marketing. This includes:
Agencies
Collaborating between the many members of small and large agencies is no easy feat. With Sked, collaborating on content planning, visual creation and seeing what works (or doesn't) has never been easier.
At Sked we know that team efforts make all the difference. The smoother, the better.
So, that's why Sked comes equipped with features designed for the ultimate team effort.
Each Sked account allows unlimited account logins, allowing you to invite, your designer, marketing director or even you client to participate and accelerate your visual marketing process.
You can officially wave goodbye to swapping passwords and dreaded content approval cycles that last a lifetime.
And Last-minute changes can finally be taken care of and approved in a snap.
With an unmatched combination of visual planning, video content scheduling and content optimization features across Instagram, Facebook, Pinterest, and Twitter, Sked helps big agencies like McCann get all the details—big or small—just right.
E-Commerce Brands
With social media channels catering more and more to the needs of e-commerce brands, there's never been a better time to grown you Instagram, Facebook, Pinterest and Twitter accounts. But when will you find the time to cater to all of your followers?
Sked helps e-commerce brands by delivering scheduling features that boost traffic and sales, and save their teams time.
Today, every piece of content counts. Sked gives e-commerce brands the tools to attract and nurture loyal customer and create content that keeps sales booming throughout the year.
On Instagram, Sked lets e-commerce brands tag products, influencers, and locations to attract likes, comments and add locations to your posts so potential customers can discover your products.
Plus, features like Link-in-Bio scheduling and Instagram Analytics give you the insights you need to figure out what content drives the most sales.
E-commerce brands can also carve out even more hours with automatic cross-channel publishing across the highest revenue-generating social media channels, so that brands can spend more time creating authentic content that connects with their shoppers.
Enterprises
When there's so much at stake, the added pressure to get the details just right can be crippling.
That's why Sked offers a range of visual marketing tools that save you time, and allow you to perfect every post before it goes out to your legion of global followers.
Whether it's collaboration and planning tools, unlimited team member access or Instagram analytics that deliver the key to your ROI, Sked is the go-to social media management platform for industry-leading enterprises.
Plus! Sked allows users to schedule their IG story posts from the comfort of their desktop, giving you the freedom to go behind-the-scenes of your enterprise and connect with your followers on an emotional level.
And last but not least, Sked frees your team from the stress of Instagram reporting thanks our automated Instagram Analytics dashboard.
Visual Marketers
These days, every post is worth a thousand words. The added pressure to get your visual social media strategy perfected, has never been more intense!
That's why the most meticulous of visual marketers turn to Sked for the best visual planning ad social media scheduling tools in the industry.
Sked's Visual Planner and robust photo editor give visual marketers the power to bring their visions to life.
Optimization tools like Sked's Hashtag Manager, Instagram tagging and IG story scheduling allow their content to attract the reach and impressions it deserves. And those who depend on rich video content to attract their loyal audience flock to Sked for its wide variety of content scheduling capabilities.
Break the boundaries of your story-telling and deliver your audience what it craves mosts—video, carousels, and IG Story content. And manage it all as efficiently as possible with multi-channel posting across Instagram, Facebook, Pinterest, and Twitter.
Fashion Brands
Social media saturated with fashion brands looking to make their mark. So, it can be difficult to stand out from the crowd, and especially when you're using a scheduling tool that doesn't help you create content that looks great and delivers revenue.
Fashion brands who want to build a loyal following and drive sales from their content turn to Sked for the platform's revenue-generating features and visual planning tools.
Tools like Sked's Instagram Visual Planner, cross-channel publishing, and Instagram product tagging and Link-in-Bio tracking give fashion brands the power to grow their own community of style fanatics, and convert them into buyers, all while telling your brand's story one scheduled post at a time.
Why Use Sked Social?
Most visual and social media marketing teams use a wide array of tools to get work done:
Spreadsheets and Google Calendar to build content calendars and keep track of special hashtag holidays.
Instagram-only scheduling apps that send you mobile notifications when it's time to post
Analytics platforms to prove your work is producing results.
Numerous photo editing apps and software.
Your mobile phone to add tags, locations and update your Instagram link-in-bio.
Your mobile phone again, to add hashtags in your first comment after posting. Not to mention…
Your mobile phone, yet again, to post video to your feed or IG Story.
A note-keeping app to store all of your hashtags.
An Instagram grid planning app that doesn't post automatically for you.
The willpower to wake up at 3:30 am to post content for followers halfway around the world.
And not to mention losing sight of which team members or freelancers, new and old, have your one login and password.
Social media management is a miles-long race that has no finish line in sight.
The inefficiencies that exist with social media management mean that:
Social media marketing tool stacks are disconnected: When you're required to store content across several tools, you lose time and keeping things organized becomes increasingly difficult across larger teams.
Inefficient tools lead to disjointed execution and poor results: Time is money, and for social media marketers who need to churn out content around the clock, time wasted due to tools that don't scale is unacceptable.
Managing social media campaigns across multiple tools and devices increases errors and leads to burnout: ifosdjfldsjlfds
But thanks to Sked Social, coasting is now in sight.
Yes, there are other tools that offer Instagram visual planning, while some deliver great Facebook and Twitter scheduling, but no other app brings it all together to maximize your visual marketing results, while saving you the most time.
If you're looking for social media management software that
empowers your team to deliver rich content experiences
your customers deserve, whilst saving you time and increasing ROI – get Sked Social today.
How Sked Social Helps Your Power Your Social ROI and Beat Burnout Before It Sets In
1. Plan
Beating the burnout blues and catapulting your social roi begins with planning.
Setting clear goals and a content framework builds a unified foundation for your team and allows creativity to blossom.
These days, every piece of content needs to reach like never before. Capitalizing on global, local and internal dates and holidays is a great way to anchor your social media strategy.
Holidays and events provide opportunities for your clients to connect authentically with your audience, reach new followers and target customers.
It might seem like there's too much to keep on top of, but using Sked's built-in social media calendar is a great starting point.
Social Media Calendar: Pre-Filled International Social Media Holidays All In One Place
Sked's drag-and-drop social media calendar gives you an instant snapshot of important social media events or holidays to be marked in your calendar. You can also add any holiday or custom event you wish, with a simple iCal URL.
Plus, all your social media activities, across Instagram, Facebook, Pinterest and Twitter, also fill this same calendar.
This gives your team one version of truth.
See when your posts are scheduled to go out, filter to view only Instagram content for examples, and make changes in seconds.
Finally, Sked's social media calendar provides you with simple to use filters and layouts, so you can view scheduled content by account, event and time (month, week or day).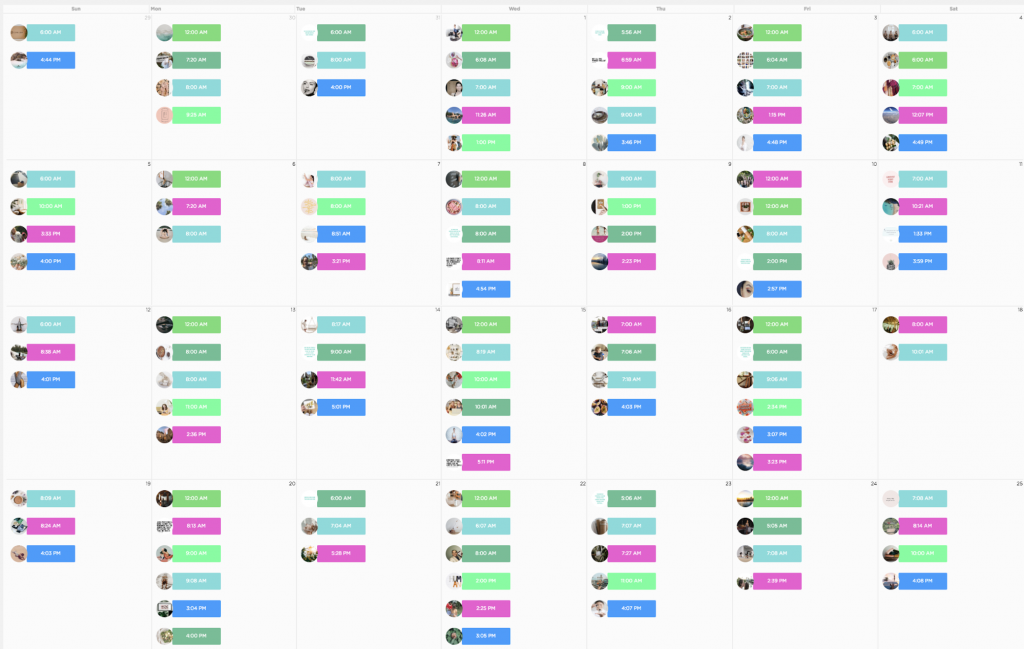 Bulk Uploader: Get Your Photos Up In One Click
With brands and social media managers publishing upwards of 10 pieces of content per day, individual content posting can really eat up your time.
Instead of double-handling content plans, emailing your content for approval and wasting time with single uploads, Sked's Bulk Uploader makes scheduling posts a breeze.
Upload multiple photos with our handy bulk uploader. For example, if you've created a month's worth of content for a client and it's ready to go, simply upload all of the images in one quick and easy select and upload function.
As a bonus, in the bulk uploader, you can also edit your posts, tag accounts, products, and locations as well as adding in your captions, hashtags and select your date and time to post.
This allows you to quickly, and easily organize posts in one go.
Queue: Feature To Set Up Your Optimal Posting Schedule
Often, when managing multiple social media accounts, it's difficult to break away from your work or commitments to post content at optimal times.
It's even harder when your audience is global, and many of your followers interact with your content when you're sleeping.
That's why using Sked's Queue feature is so handy.
The Queue allows you to set consistent optimal posting times that build trust and deploy content that reaches your audience when they're most likely to interact with your posts.
The greater the consistency and frequency of your posts, the more your audience is bound to grow.
And the faster you can get back to an uninterrupted work day, weekend and night.
Visual Planner: Plan An Instagram Feed They Can't Resist
A grid can make or break any Instagram strategy.
A visual Instagram planner is especially useful if you have a strict brand aesthetic to uphold or prefer to extend posts across several tiles/posts.
There is simply no better or easier way to guarantee a consistent look to your feed.
The results often speak for themselves. Consistent and well-curated feeds boast a higher number of followers and are linked to higher engagement rates.
Using Sked's Planner helps social media managers plan their grids exactly as their team envisioned them.
Feel free to drag content from your drafts into your preview grid, and then move the posts around as you see fit. This includes scheduled, queued and draft posts. Then, you can make any necessary changes to make the posts appear in the exact order that you want. This is crucial when you are putting together a collage.
Doing this without Sked's Visual Planner feature would be difficult, and would take a few attempts to get right. It's easy how this feature helps users save them hours in their social media planning.
Hashtag Manager: Exponential Growth With Hashtags
No matter how great your content may be, sometimes it just won't be enough to attract the reach and impressions that you're after.
Hashtags are a necessity for any account on Instagram to reach more people.
In fact, posts with at least one hashtag average 12.6% more engagement than those that don't.
This is a pretty big deal, right?
While we know hashtags are a powerful element to your their overall Instagram strategy, they tend to look spammy! Sked's Instagram manager allows you to add hashtags to the first comment of your post, all within the tool.
Plus! You can store recurring hashtags and mentions into groups for quick referencing while filling out your captions.
2. Create
A proper plan leaves room to create content that connects with your followers.
But if you don't have the right tools, then you content may suffer and so will your ROI.
In addition to planning tools, Sked gives you the freedom to create visually engaging posts from the comfort of your desktop, and all within the same platform.
Base Captions – Save Time by Scheduling the Same Content Across All Accounts
With base captions, you only have to craft your social media posts once, and they'll automatically be copied over to your other accounts.
However, if you prefer to fine-tune your messaging for each channel, simply "unlink" them as shown in the gif above.
First Comment Scheduling for Instagram
With Sked, you can write unique descriptions and hashtags you want to appear within the first comment of your Instagram posts – keeping your main captions clutter-free and professional.
Emoji Support – Show Your Fun Side
Our social media post creator also comes packed with all your favourite emojis. Simply select your mood and schedule away.
Photo Editor: Craft beautiful and Channel-Specific Content
Gone are the days when social media managers need to use multiple apps to perfect their posts!
Sked's Photo Editor takes the labor out of editing your social media posts thanks to its professional photo editing capabilities, Instagram-like filters and stickers, and handy text feature.
Sked's in-browser Photo Editor allows you to make the same edits you would on Instagram or other photo editing apps like Snapseed. Feel free to adjust the contrast, brightness, clarity, focus saturation and more.
We all know how crucial it is to curate high-quality images, but adding your brand's signature touch with Sked's brushes, fonts and stickers will help you stand out from the crowd.
3. Publish
Publishing with Sked is as easy as 1-2-3. Simply upload your images, create your captions and schedule. Our platform delivers best-in-class tools to schedule single-post images, carousels, videos and stories to your most prized social media accounts.
True Automatic Social Media Scheduling
Our social media scheduler doesn't bother you with notifications, alarms or nudges. Simply "set it and forget it".
Need to plan your video, carousel and photo posts for multiple accounts, simultaneously? No problem, simply flick the switch as shown below, and your images will be posted to all your accounts.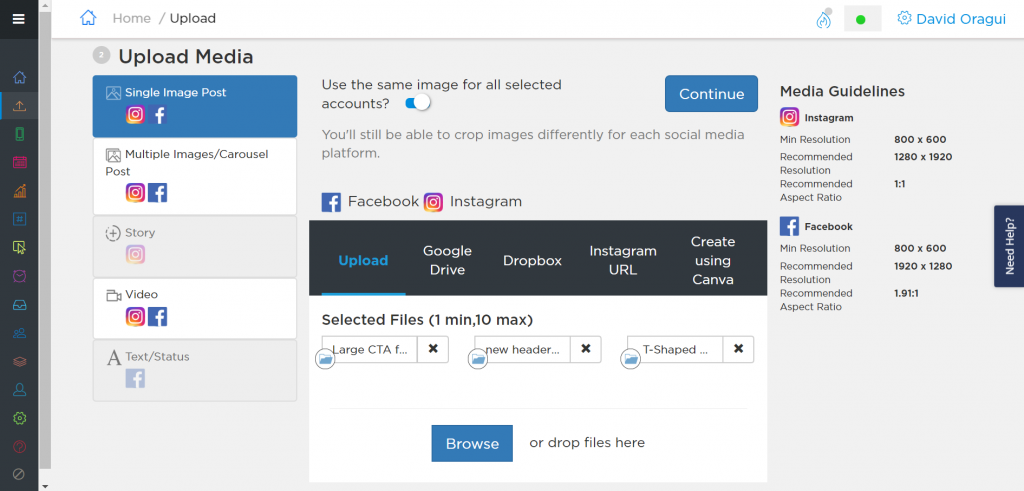 Instagram Stories Scheduling
As an Instagram-first social media scheduler, Sked can schedule your Instagram stories with ease too.
Don't forget to put your URL in, so you can drive traffic to any page you like.
4. Keep
Our vision with Sked here is give you a place to house and manage all your digital content assets. From images and videos to fully-prepared posts ready to be published.
With Sked, you can keep an unlimited amount of drafted posts ready to be published in the future. In short, you can plan your entire social media content calendar in advance and schedule them to go out when you see fit.
5. Analyze
After the planning, content creation, publishing and scheduling, comes yet another, but oh-so-crucial step.
No social media strategy can reach its true potential without analytics that draw out valuable insights.
Thanks to Sked's Instagram Analytics Dashboard, there's no maths degree required to understand the metrics.
Our popular dashboard offers graphs that delve deep into the performance of your content and deliver insights that drive social ROI.
Easy-To-Read Instagram Analytics
Sked's Instagram Analytics dashboard allows users to quickly draw insights thanks to its clear graphs and friendly user-interface.
An Overview Layout That Speaks Volumes
Sked's Overview tab gives users the freedom to quickly analyze how their content is doing throughout the week, month or year.
All The Metrics You Need
Sked's Instagram Analytics provides a look into increases and dips of vital metrics such as follower and following count; average likes, engagement, comments and more.
Detailed Instagram Post Metrics
Leave your individual Instagram post metrics up to Sked thanks to its detailed table overview that compares the performance of your recent posts. Quickly compare your Instagram post captions, likes, comments, as well as engagement rates, all in one go.
Flexible Reporting Timeframes
Create weekly, monthly and quarterly reports within seconds and print out PDFs for quick report sharing.
Tracking The Clicks On The Link In Your Bio
It's frustrating that Instagram really only gives you one opportunity to showcase a link to your website or other content.
Stress less – one of Sked Social's most popular features is our integration that allows you to automatically track clicks to your bio link, and change its destination based on the most recent post you published.
6. Collaborate
Communication is key to any team.
So having the ability to invite your client or work colleagues into the Sked platform as a user is an absolute lifesaver.
Clients are able to review images, captions, scheduled posting days and times in real time.
Let's say your client has a couple of adjustments they would like made. They can edit the actual post before it's published or leave notes in there for your review.
Instead of flicking between emails and content plans, manage the whole lot with Sked's handy multi-user platform.
Similarly, if you are pushed for time and need another member of your team to schedule content, this can be done through their own account.
No more sharing passwords with colleagues, Sked makes it easy to manage the platform within your team.
Pricing
Whether you manage a few accounts or 50, Sked's pricing plans give teams of all sizes the freedom to collaborate plan, create, schedule and publish their social media campaigns all from one amazing place.
Here's how we break down our pricing:
All plans grant full access to all of our features
All plans allow unlimited users at no extra cost.
Pricing is determined according to the number of social media accounts you need to manage.
And save more by paying yearly!
It's a small price to pay to preserve your team's time and sanity. And if you ask many of our 10,000+ users, the peace of mind that Sked affords them is simply, priceless.
Get started for free today with a no-obligation 7-day trial.
Click here for more pricing details.
Sked All Your Social Media Content Today
Over 10,000+ businesses, e-commerce brands, enterprises, visual marketers and agencies use Sked Social daily to meets the highest of industry standards while easing the workflows of their teams.
By joining them, your teams will be able to:
Manage your social media content with Instagram, Facebook and Twitter scheduling and automatic publishing for all types of content.
Keep your social media management team smiling and collaborating as smoothly as possible by adding unlimited users at no additional cost
Reap the rewards of ROI from all of your hard work.
Manage a single account, through to 500+ accounts within one platform.
Stay ahead on top of your social media calendar, reminding you of all the fun campaigns you can plan around them.
Plus, much more!
In addition, we've got tons of marketing resources to help your marketing teams avoid burnout and get more ROI out of social media.
Let us know and we'll help. Whether you prefer to chat live, or over a one-on-one demo, we're always here to guide you through any struggles.
Happy Skeduling!