Don't let your work go to waste
You create great content – we make sure it's seen organically. Sked helps media companies around the world improve their audience engagement.
Auto-post stories & feed posts
Plan and create content in one go and we'll post it for you – feed posts, stories, carousels, the lot. You focus on the content and plan the visual style you want, we'll do the grunt work. Set it. Forget it. Feel easy and free.
Unlimited included users so you can collaborate easily no matter your team size
Whether it's one person per media property or 50, or one media brand or 100, Sked makes collaboration easy. Gone is the 'per-seat' pricing of the past – if you have an intern, issue them an account for the week without worrying. We have advanced collaboration features to help you build the best content strategy possible.
Branded link in bio tool to drive traffic where it counts
Instagram's lack of in-caption links sucks. How do you direct people from a post to the right piece? Sked Link helps you direct followers from a post – old or recent – directly to the relevant article or video rather than just your home page. Even better, you have full control over all of the branding, and can integrate with your audience analytics software.
Internal comments & approval workflows so you can collaborate with your team
Coordinate easily among team members using internal comment threads about posts you have planned. If you need workflows for copywriting, editorial approval or more – Sked has you covered.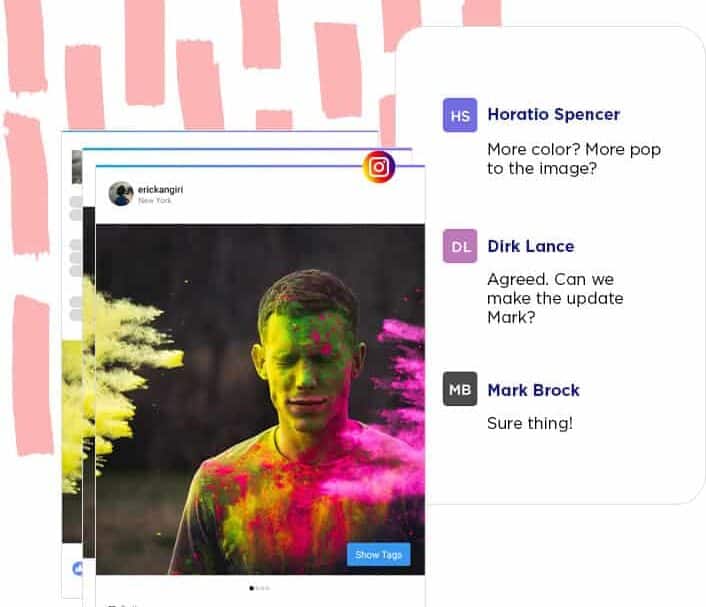 Analytics & reporting so you can see what's going right
Use our Instagram analytics* to identify what's working best to engage your audience. Analyse stories as well as profile posts, and work out the best time to post using advanced analytics. Deliver reports or export to CSV if you want to DIY. * Other platforms launch soon.
Social media calendar so you can schedule your way
Use our calendar layout to plan your posts alongside editorial. You can even overlay holidays or custom calendar feeds to make sure you're not overlapping on the wrong day.
Satisfied customers say it best
Sked has helped us streamline our entire Instagram social media process. No, other social media scheduling platform allows us to do this and we've tried them all. Can't do with out.
Sked has saved us from having to spend weekends messily uploading content via mobile phones. We are able to plan ahead and see content, to ensure what we are posting has a clear marketing objective, as well as relevance to our followers.
Sked has allowed our social media team to more effectively create storylines and arcs that and to coordinate with our marketing team through its engaging layout and useful planning tools. We love the calendar that allows us to visually see our Instagram posts over the entire month!