They say that the only constant is change. And, nowhere does that statement ring more true than marketing on Instagram.
Considering that social media really only started to gain traction in the early 2000's, there's been a great deal of major shifts already (ahem, remember Myspace?). Oftentimes, it seems that once you've finally mastered one platform, strategy, and user base, a new one swoops in that you simply can't ignore.
Of course, Facebook is still the social media giant. However, Instagram is another platform that has gained plenty of notoriety—and users. With 700 million active accounts, it's surpassed both Twitter and Snapchat.
What does this mean for you? Well, if your brand doesn't already have an Instagram presence, it's time to get one done. Or, if your Instagram profile is something that's only been collecting cobwebs, it's time to put it to good use.
Now you're left with one final big question: How can you effectively execute marketing on Instagram? What do you need to know to not only use the platform—but use it effectively? We're covering the nuts and bolts right here and we'll also give you some tips on how you can use Sked (formerly Schedugram) to streamline your Instagram marketing.
Marketing on Instagram 101: 5 Easy Steps
1. Get to Know Your Audience
You know by now that marketing on Instagram starts with knowing exactly who you're targeting—and, this same golden rule holds true when it comes to Instagram marketing.
You likely already have a good idea of what your target customer looks like (if not, take some time to build out some profiles). But, now it's time to determine which of your target customers you want your posts to resonate with on Instagram.
Let's add some clarity with an example, shall we? Let's say that you're a company that makes hiking boots, and you've identified the following as your target customers:
Adventurous Amy: A female between 25-32 years old who enjoys hiking with friends as a casual activity over the weekends.
Thrill-Seeking Tyler: A male between 21-40 who has a passion for the outdoors and a relatively large disposable income that he prefers to spend on adventures and activities.
Empty-Nester Erin: A retiree—either male or female—whose kids are out of the house and is now looking for new hobbies.
Those are all great personas—but, that doesn't mean you should plan to speak to each of them on Instagram.
Considering that Instagram's demographics skew slightly younger (statistics report that 25.2% of users are between the ages of 25 and 34, while 20.6% are between 18 and 24), your hiking boot company knows that its Instagram posts probably don't need to appeal to Empty-Nester Erin quite as much.
Plus, when you consider the fact that 68% of Instagram users are female, it makes sense to target a large chunk of your posts toward Adventurous Amy—with some peppered in that will also appeal to Thrill-Seeking Tyler.
If you don't have any target customers that fall into the Millennial age group, don't worry—you can absolutely still start marketing on Instagram. Just make sure to do your research just like this to identify who is best for you to target on that platform.
TIP: Hashtags might make you think of Twitter, but they're also big business on Instagram. Look up different influencers within your target audience and see what hashtags those people are already using or interacting with. That way, you can use those in your own posts where it makes sense to begin building more awareness around your brand.
2. Settle on an Aesthetic
Instagram is a visual platform. So, it makes sense that the most popular and impressive accounts are also the most aesthetically beautiful and visually pleasing.
When you're just getting started with marketing on Instagram, this can be intimidating. You don't fancy yourself a professional photographer or designer, so you're convinced that you'll never be able to achieve that same cohesive look for yourself.
But, don't count yourself out yet. Instead, turn your attention to what sort of recognizable aesthetic you want to create for your own brand:
What colors do you want to use?
Do you want a light and airy feel, or something more bold and vibrant?
Do you want lots of photos of people? Objects? Nature?
The best place to start with marketing on Instagram is to take notes of the brands that you think are doing a killer job on the platform. What is it that you like most about their accounts? That'll help you figure out what sort of look you're trying to achieve for yourself.
Remember, what people see in your feed will determine whether they follow you or not. Especially those first 9 images. Use Sked's planner (hey that's us!), to arrange and map out an emotive feed that draws a crowd and keeps them coming back for more.
To start visually planning your marketing on Instagram, log in to your account, upload some images, and save them as drafts.
Next, go back to the Sked homepage on your dashboard and click on the planner icon in the sidebar menu (see below).
Then, drag and drop posts from your recent drafts and arrange them to create a captivating grid layout (see below). Using our planner is the easiest way to design a killer aesthetic and to ensure it remains consistent.
Once you're done, click on each post on the right-hand side to set a time and date to publish it, then click Submit Changes … and voila, your feed is much more likely to get noticed!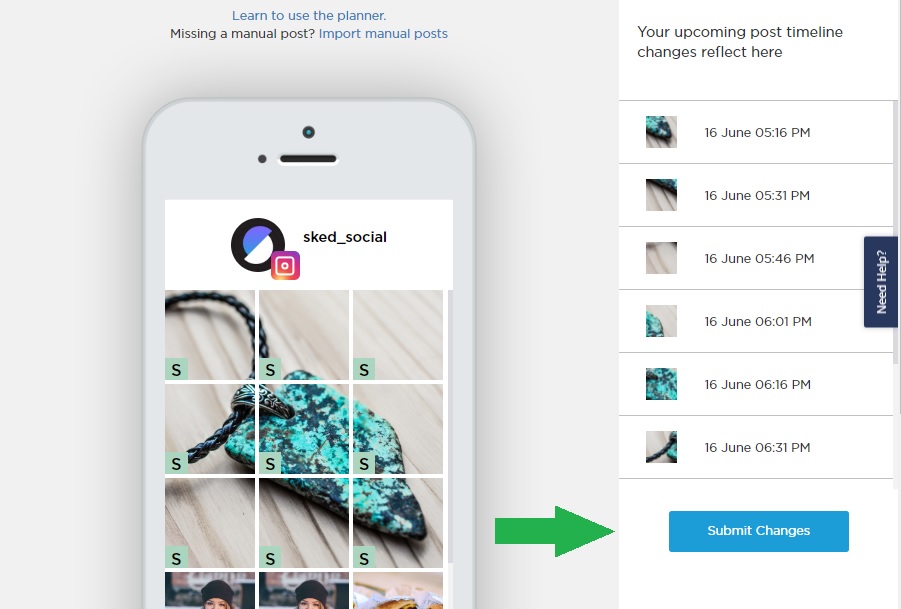 TIP: Instagram boasts some pretty robust photo editing tools that you can use. But, don't be hesitant to explore what else is out there to help you create the look you're going for. There are tons of other apps (from VSCO to Afterlight to A Color Story) that have all sorts of tools and filters you can test out.
3. Understand the Algorithm
Cringe. Any marketer will shudder at the thought of yet another complicated social media algorithm they need to master.
There's no denying it—all of that crazy math and witchcraft that happens behind the scenes is frustrating, and makes it that much tougher to figure out how to get your posts seen by the people that you actually want to see them.
But, unfortunately, Instagram is no different. This platform also has an algorithm that you're going to want to at least somewhat understand in order to get your posts in front of the right eyeballs.
The good news? We've already put together a complete guide covering everything you need to know about the Instagram algorithm (as well as how you can leverage it to your advantage!). Give it a read, and you'll feel empowered—rather than intimidated.
TIP: While you're sorting through those technicalities, it can also be worth exploring whether or not an Instagram business account is a good fit for your brand. One of the key benefits of switching over? The ability to have customers and followers easily contact you directly from your Instagram profile.
4. Plan Out a Strategy
Without a solid plan in place, you'll be floundering. You'll have no idea what to post and when. And, by the time you think of something that's worthy of that space on your grid, you might not be able to actually create that image (that sunshiney post you have in your mind, for example, won't exactly work when it's already after dark).
This is why it's so important to plan out a strategy for your Instagram account—much like you do for any of your other social media platforms.
Here are some questions you should think about when mapping out your own Instagram strategy:
What types of content do you plan to post (i.e. motivational quotes, product photography, etc.)?
How often do you plan to post (most statistics point to once per day as a good number)?
Do you plan to participate in any themes (such as "Motivation Monday" or "Throwback Thursday")?
Having answers like these sorted out will help you plan out a strategy for your brand's Instagram page. And, even better, you'll have the option to start creating backlogs of photos and images—so you always have something to lean on in a pinch.
TIP: Consistency is key on social media. Posting regularly to your Instagram account will help followers know what they're in for—and, ideally, keep them coming back for more. So, plan out a consistent posting schedule for your brand's account (ahem, by the way, Sked can help with that!).
5. Remember to Engage
Social media can often feel a lot like you're shouting through a megaphone into an empty room—is anybody out there? Is anybody even seeing these posts that you're sinking your blood, sweat, and tears into?
But, here's something that's important to remember when it comes to all social media—Instagram included: If you want people to engage with you, you're going to need to engage with them as well.
What does this mean? Well, you can't be blanketing Instagram in your own posts without ever interacting with others. Here are some things you can do to up your engagement on the platform:
Follow other brands and communities that are relevant to your own.
Like the posts and photos from other relevant accounts (and influencers!).
Respond to comments on your own posts and photos.
Leave comments on other relevant posts.
Ask influencers for permission to use one of their images as a "re-gram" on your own account—with proper credit, of course.
Do a Q&A session for your customers using Instagram Live or Instagram Stories.
Those are just a few suggestions, but there's no shortage of ways that you can interact with your audience and engage your followers on the platform. Just remember that social media is about building relationships and a community—rather than a one-sided broadcasting of your own promotions.
Over to You
Getting started with marketing on Instagram can feel like an overwhelming undertaking. But, considering the popularity of the platform—and the amount of impact it can have for your brand—it's also something that can't be ignored.
There's so much that Instagram is capable of that we've barely scratched the surface here.
However, kicking things off with these five tips will help you set your brand up for success on Instagram right from the start—and, before long, you'll have these basics totally mastered. 
If you're looking to start marketing on Instagram and carve out hours in your social media workflow, sign up for Sked's 7-day trial. Our all-in-one Instagram scheduler allows you to automatically post images, carousels, Stories, videos and more. Tag locations, users and products and manage all your hashtags in one place to save 5+ hours every week.
Now, get to it!
Kat Boogaard
Kat Boogaard is a freelance writer, who writes for Sked Social about marketing strategy. She's a compulsive organiser with a penchant for dogs and tacos – in that order.