Invite as many users as you want for no extra charge
The key to a great Instagram is collaboration – and it's what Sked is all about. You should never have to limit your collaboration (or share passwords!) because of the cost. Here's how 10,000+ brands across the world collaborate with Sked.
Unlimited free users – invite any one, any time
Don't be afraid of inviting users because of per-seat or "limited number of users" pricing. Sked includes as many seats/users as you want – for no extra charge – on the essentials plan and above.
Work with everyone you need – clients, freelancers, the lot
When you don't have to pay for each person you add to Sked, you can work with any one you need. Because you can restrict which account(s) they can see in Sked, we work great with team members, freelancers, clients, or agencies.
Post status for client approvals – workflows to help you get sh*t done
Set up post statuses (like 'in draft', 'waiting for review', 'ready to publish' …) and share the approval link with clients or other stakeholders. They can approve or reject (with a comment) the posts, and Sked will automatically hold any posts that aren't approved for publication. [Available on the 'Essentials' plan and above.]
Collaborate in the dash with internal user comments
Need to review internally while you work? Just use our internal comments solution. Add comments to drafts or scheduled posts so that your team can refine the posts and make sure your Instagram is awesome. [Available on the 'Essentials' plan and above.]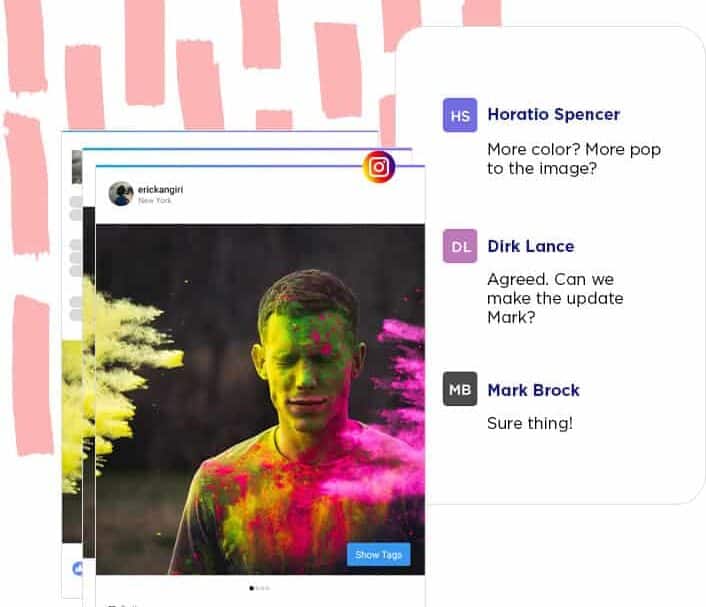 Satisfied customers say it best
Sked has helped us streamline our entire Instagram social media process. No, other social media scheduling platform allows us to do this and we've tried them all. Can't do with out.
Sked has saved us from having to spend weekends messily uploading content via mobile phones. We are able to plan ahead and see content, to ensure what we are posting has a clear marketing objective, as well as relevance to our followers.
Sked has allowed our social media team to more effectively create storylines and arcs that and to coordinate with our marketing team through its engaging layout and useful planning tools. We love the calendar that allows us to visually see our Instagram posts over the entire month!