We know you're busy
Sked Social saves time and un-frazzles nerves. Focus on building bigger and better engaged audiences across Instagram, Facebook and Twitter. Here's how:
Schedule and automatically post everywhere
Plan and create content in one go and we'll post it for you – feed posts, stories, carousels, the lot. Our 360 degree visual marketing platform lets you plan, create, store, find and use all of your visual marketing content in one place! Set it. Forget it. Feel easy and free.
Collaborate easily no matter your team size
Whether you're a team of 1 or 100… Sked makes it easy to work together with customers, clients and collaborators. Managing a single account or upwards of 500? We've got you covered with free unlimited users. Post approvals and internal comments top it off. With easy switching between different accounts and content schedules – Sked scales to meet the needs and budgets of small or big agencies, entrepreneurs and global brands.
Picture perfect photo editor
Need your images to look 'just so' in all your social spaces? Of course you do. Sked helps you pull looks together without leaving the app. Tweak this and touch up that with 60+ filters, cropping tools, stickers, texts and overlays. Want to create a post with Canva? No problems.
Queue for regular posting consistency
Got a bunch of evergreen images or videos? Drag and drop them into the Queue. It keeps things fresh even when you're off doing whatever. Pick your best time and days of the week to post on social media (or try other timezones) and we'll fire when ready.
Schedule your way
Whether it's #nationaldonutday or #weinerdogweek, you can get ahead of every social event that glimmers with gold. Pop your special days and big opportunities into a calendar that's pre-filled with holidays from around the world. See the big picture or filter by day, week or month. Drag and drop your drafts into fresh time slots and preview before you post. Hot dog!
Faster workflows with templates
Hashtags and @-mentions make it so easy to reach new people. Remembering and typing the right ones in every post is a chore. Our social media post templates stash them all for you in groups. Pick and pop them all onto your posts with a click. On Instagram, you can even drop them into the first comment to keep captions tidy. It's #thateasy!
Turbocharge your bio link
Let down by Instagram's lack of clickable links? Use Sked Link to quickly create a landing page your users can click through to with buttons and/or a gallery. Your followers can click through to your gallery of individual Instagram posts linking products, blog posts or wherever they can find more information.
The original Instagram tool
Visual Planner
How posts look on the Grid is a big part of brand building on Instagram. Quickly drag and drop your posts to design gorgeous layouts. If they're scheduled, queued or drafted… you can move them around and make sure everything's perfect before going live.
Advanced Post Types
Don't miss out on the best ways to tell your brand story! Sked is the only tool that lets you schedule and post pics and videos to Instagram Stories. Upload your content, choose a time and we'll push it live.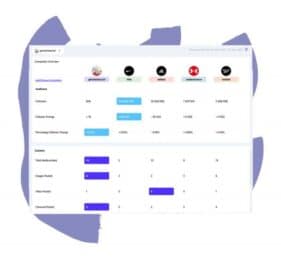 Analytics Dashboard
The hearts are piling up on Instagram but that doesn't tell clients the whole story. Show off your stellar social skills to stakeholders with robust visual reports. Share insights on audience growth and engagement so your value (and their ROI) is plain as day.
Satisfied customers say it best
"One of the best things about Sked is that we are able to give our clients access too. This means that we can go ahead

and schedule content in advance and add it to the planner, and then the client can jump in, make any necessary changes and then approve posts.

"
"Insights – It allows you to quickly work out which posts and content topics are

creating the most affinity and engagement with your audience.

"
"Scheduling posts has allowed us to proactively increase our presence on social media without worrying about posting content on a daily basis –

allowing more time for driving the actual strategy.

"
"My fav features are the cropping tool, the tagging products feature and the planner where you can see what your feed will look like.

We plan content in a way that fits together like a puzzle, with colours, patterns and an overall aesthetically pleasing look

– that is unique to us, mixing brand content as well as our own unique content."