Get that Grid looking Gorgeous
Create the perfect Instagram feed using our planner grid, and relax while Sked takes over posting your 'grams.
Here's how 10,000+ Instagrammers visually plan their grids
Drag and drop Instagram scheduling so you can plan your Grid in advance
Drag and drop your Instagram posts on our visual planner to get your grid looking just right. Sked posts everything automatically for you (no push notifications!), along with your Reposts, Instagram stories, Facebook posts and Tweets.
Queue your posts and save time
Pick the times and days you want your posts published, or use our Queue feature to keep up a consistent schedule of posts. With Queue, your followers will get content on a regular schedule, and you don't need to worry about picking the best time to post for every post.
Move from idea to posted
Sometimes you need time between creation and curation. Add your ideas to drafts, and then drag them into your Grid when they're ready for the lime light. With unlimited users included, invite your team members to do the same – it's collaboration made easy!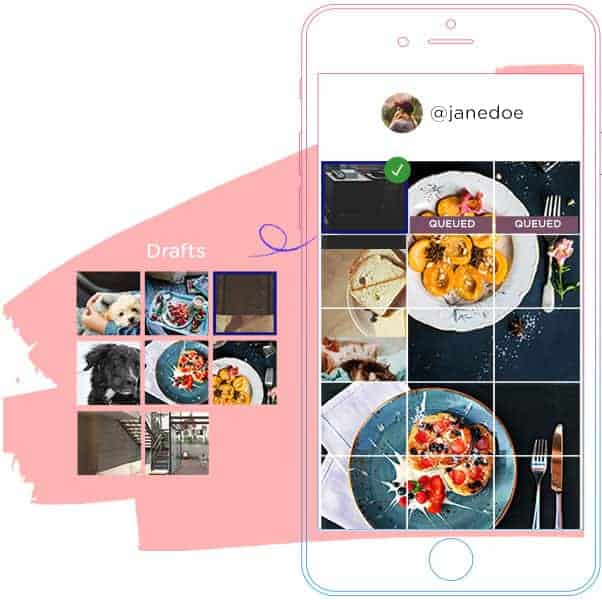 Preview to get perfect posts
Stop making those visual snafus with a tried-and-true Instagram preview tool. Check what posts look like individually as well as on your Instagram profile to make sure they'll come out just right.
Easy editing tools + Templates so you can get your visuals right
Use our image editing tools across both our desktop and mobile app (Android + iOS) to get your content looking just right. Whether you work on your computer or in our planning apps, Sked has you sorted. Use the template feature to easily re-use content like the best Instagram hashtags that you might use across posts for your Instagram account.
Advanced post types for advanced users
Schedule and auto-post your images, videos, carousels and Instagram stories. No more push notifications or alarms! With other advanced features like person, product and location tagging – Sked has what you need to get your Instagram just right.
Satisfied customers say it best
Sked has helped us streamline our entire Instagram social media process. No, other social media scheduling platform allows us to do this and we've tried them all. Can't do with out.
Sked has saved us from having to spend weekends messily uploading content via mobile phones. We are able to plan ahead and see content, to ensure what we are posting has a clear marketing objective, as well as relevance to our followers.
Sked has allowed our social media team to more effectively create storylines and arcs that and to coordinate with our marketing team through its engaging layout and useful planning tools. We love the calendar that allows us to visually see our Instagram posts over the entire month!