Welcome to Sked Social: The All-in-One Visual Marketing Platform
Sked Social is an all-in-one visual marketing platform for businesses, brands and agencies to create, store, find and use their social media marketing content online – whilst collaborating with staff and partners.
If you're looking for social media management software that saves time and increases ROI, then you're in for a ride. Strap yourself in and take a look at everything that Sked has to offer your business.
1. Create
Sked provides you with powerful tools to help create visual marketing masterpieces that connects with your audience on an emotional level. From our social media post creator, to our photo editor and Instagram tagging features, you have everything you need to capture hearts, leads and sales.
Social Media Post Creator
Simply upload your content and you'll get access to our multi-purpose social media post creator. This is the portal for crafting your Instagram, Facebook, Pinterest and Twitter captions and descriptions.
Here's a sneak-peek at some clever time-saving tools to simplify your workflow.
Base Captions – Save Time by Scheduling the Same Content Across All Accounts
With base captions, you only have to craft your social media posts once, and they'll automatically be copied over to your other accounts.
However, if you prefer to fine-tune your messaging for each channel, simply "unlink" them as shown in the gif above.
First Comment Scheduling for Instagram
With Sked, you can write unique descriptions and hashtags you want to appear within the first comment of your Instagram posts – keeping your main captions clutter free and professional.
Emoji Support – Show Your Fun Side
Our social media post creator also comes packed with all your favourite emojis. Simply select your mood and schedule away.
Social Media Photo Editor
We built our social media photo editor to help you create picture-perfect social media posts. Bursting full with filters, stickers, overlays and more – your posts will never look dull again.
Adjust brightness, saturation, contrast, gamma, clarity, exposure, shadows, focus & more.
The editor also allows you to draw by giving you pixel-perfect brush settings and text options to make your social media posts and stories pop.
Magic Crop – Automagically Crop Your Images to Perfection
Now when you upload posts, Sked will automatically crop your images to the ideal size for each social media platform. Taking this further, you can also select the areas you want cropped for each account you're posting to.
Who could resist the cuteness of Quirky the Quokka now!?
Instagram Uploader & Regram App
Running user-generated content campaigns are a great way to expose your brand to new audiences and connect with existing fans. That's why we've designed Sked to be easy to create content with, even if you don't have any to begin with.
Simply post the URL of the Instagram post you wish to use, and Sked will upload it for you to edit.
Not sure which post to use? No problem, our Chrome extension allows you to post user-generated content to your Instagram account whilst you're browsing Instagram.
So if you see anything you like, simply press "regram" and attribution will be given automatically.
Instagram Tagging: Products, Users and Locations
With Sked, you can now make 'em shop till they drop' thanks to its powerful location, user and product tagging capabilities.
This is perfect, especially for e-commerce retailers, as your customers aren't forced to leave Instagram to checkout – resulting in higher conversions and sales.
If you have multiple Facebook catalogs, with Sked you can now specify which catalog is allocated to each Instagram account.
Don't forget about location tags either. By adding them to your posts when you schedule them with Sked, you can increase engagement by up to 29% as they help your content and brand get discovered by more audiences.
2. Plan
Sked was designed from the ground up to help you visually plan your social media content, giving you an unfair advantage over your competitors.
From our social media calendar, hashtag manager and visual feed planning features, Sked ensures you leave no stone unturned before you hit "publish".
Social Media Calendar
Our drag and drop social media calendar gives you an instant snapshot of all your social media activities from one place. See when each post is scheduled to go out and make changes in seconds.
You can also add important social media events or holidays to be marked in your calendar. Here's a huge list of 100+ holidays to kick-start your social media campaigns.
Sked comes with pre-filled holiday reminders for every country in the world – but its functionality doesn't stop there. You can add any holiday or custom event you wish, with a simple iCal url.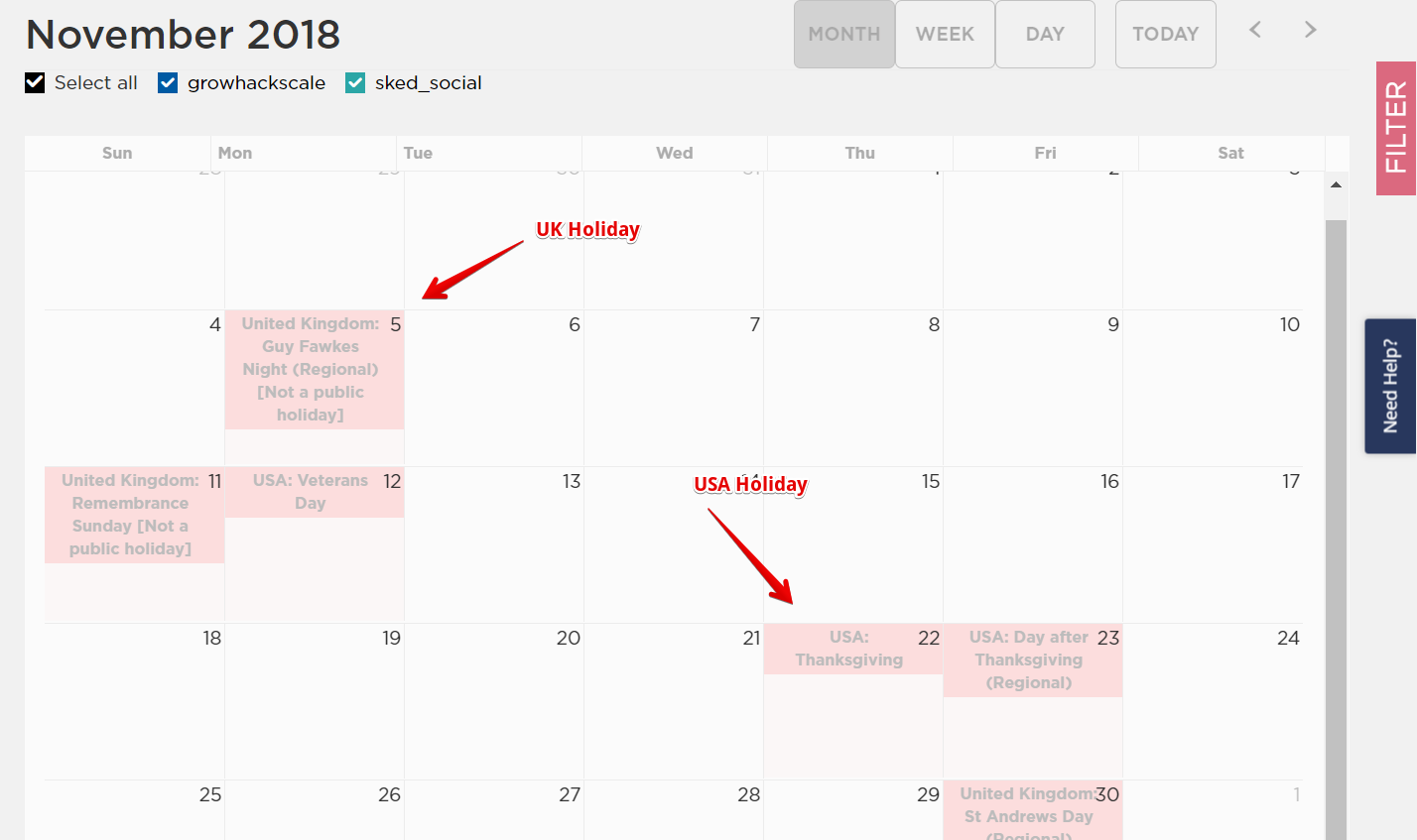 Finally, Sked's social media calendar provides you with simple to use filters and layouts, so you can view scheduled content by account, event and time (month, week or day).
Queue Settings
Create your very own posting schedule with our queue feature. Just add your content and leave the rest to us – your posts don't have to go live when you're awake. Set them up to queue during any time of the day.

Custom Timezones for Accounts
Creating custom queue settings for any timezone has never been easier. If you're an agency or a brand managing multiple accounts, having custom queue settings increases your chances of getting the highest engagement for your social media posts as your content will be published at the best time.
Hashtag Manager
With Sked's hashtag manager, you can create and save hashtags and Instagram username mentions ("@mention") to be used in your social media posts.This will save you a lot of time, as you won't have to type out your most effective hashtags every time you post.
Instagram Visual Feed Planner
Quickly plot & rearrange your feed with Sked's Instagram grid planner. We've got everything you need to visually plan, create, analyze and schedule your Instagram posts.
As you can see above, you're able to visually plan how your posts will look like on an Instagram grid. This makes it easy to implement vivid Instagram themes with complex patterns, so you can build anticipation in your audience as they await your next big reveal.
3. Publish
Publishing with Sked is as easy as 1-2-3. Simply upload your images, create your captions and schedule. Our platform delivers best-in-class tools to schedule single-post images, carousels, videos and stories to your most prized social media accounts.
True Automatic Social Media Scheduling
Our social media scheduler doesn't bother you with notifications, alarms or nudges. Simply "set it and forget it".
Need to plan your posts for multiple accounts, simultaneously? No problem, simply flick the switch as shown below, and your images will be posted to all your accounts.
Instagram Stories Scheduling
As an Instagram-first social media scheduler, Sked can schedule your Instagram stories with ease too.
Don't forget to put your URL in, so you can drive traffic to any page you like.
4. Analyse
It can be hard for media brands and agencies to accurately attribute their social media activities to ROI. For Instagram, Sked has deep Instagram analytics so you can do more of what works and less of what doesn't.
Deep Instagram Analytics
Overview report
The 'Overview' report gives you an instant snapshot of the performance of all your Instagram accounts.
You'll no longer need to capture your Instagram analytics weekly as you can see everything at-a-glance from any time period.
Post reports with Individual Post Insights
Sked's post reports allow you to review your top performing posts. This includes followers, likes, comments, clicks and your average engagement rate – helping you and your team better decide how to move your social media content strategy forward.
Competitor report (coming soon)
In the next few months, we'll be releasing our social media competitor report which will give you an eagle's eye into your competitors' social media marketing strategy.
Finally, the reports also allow you to create branded PDFs you can export and send to your clients and partners.
5. Keep
Our vision with Sked here is give you a place to house and manage all your digital content assets. From images and videos to fully-prepared posts ready to be published.
With Sked, you can keep an unlimited amount of drafted posts ready to be published in the future. In short, you can plan your entire social media content calendar in advance and schedule them to go out when you see fit.
6. Collaborate
We get it, you have many social media accounts – each with their unique voice and audience. That's why Sked was built from the ground up to enable teams of any size to collaborate with each other from one dashboard.
Unlimited Users and Accounts
Sked is truly unlimited – with no need to share logins amongst team members, departments or offices. Your team members, clients and partners can leave notes and edit draft posts for you to review.
Instead of managing clunky spreadsheets and getting lost in Slack, Trello or email – you'll be able to draft and schedule all your content from one place!
Sked All Your Social Media Content Today
Over 10,000+ businesses, e-commerce brands and agencies use Sked Social daily to manage their social media accounts.
By joining them, your teams will be able to:
Manage your social media campaigns with Instagram, Facebook and Twitter scheduling
Manage a single account, through to 500+ accounts within one platform
Effectively collaborate on campaigns by adding unlimited number of users at the same cost
Stay ahead of the curve with our social media calendar reminding you of all the fun campaigns you can plan around them
Plus much more.
In addition, we've got tons of marketing resources to help your marketing teams get more ROI out of social media: